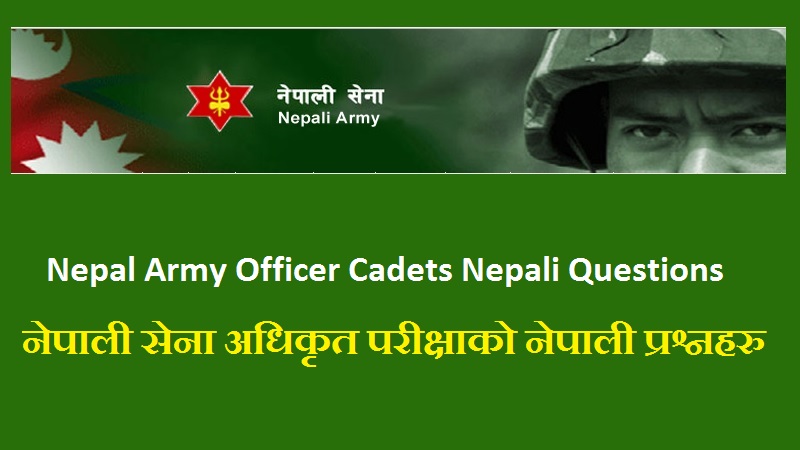 In Nepal Army Officer Cadets Nepali Questions are equally important. We have good collections of Nepal Army Officer Cadets Nepali Questions over here.
There are 4 subjects in Nepal Army Officer Cadet's written exam. So these four subjects are English Nepali Mathematics and general knowledge. We have separate articles regarding English, Mathematics and general knowledge. Now here we talk about subject.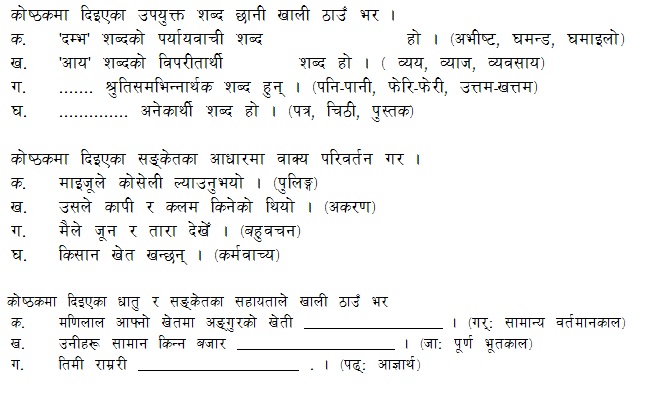 Nepal Army Officer Cadets Nepali Questions
Nepali subject also carry 12.5 full marks in the written exam. According to the curriculum there will be 10 multiple choice questions each of 0.5 marks. Similarly one long question of 2.5 marks and 5 short questions of 1 mark will be there for officer cadet's written exam. So here we give some model questions according to this curriculum.
How to Prepare Nepali Subject?
Now days due to English medium schools students do not like to study Nepali subject. So, most of the students do not enjoy this subject. But if you are interested to serve Nepali army you must have good knowledge of Nepali subject. Therefore here are some useful tips for Nepali subject preparation.
Tips for Nepali Subject Preparation
Basically you need sound knowledge of Nepali Grammar for army officer exam. The multiple choice 10 questions are all for the Nepali grammar. Hence in grammar you have to know about tense, voice and punctuation. Beside this in grammar there you have to know about word formation and gender.
Nepali Longs Questions
So in the long question there will be paragraph writing. In this paragraph writing you have to write on paragraph on the given topic. About 100 words paragraph of your own word you have to write there. So this paragraph might be the determining factor for your job selection. Hence express your feeling on the given topic very nicely.
At the same time here we would like to inform you that we provide free online service from our subject expert hence if you have any question put forward it in the comment box below. On the other hand you can see us online in our Facebook page too.
You Might be Missing 
Nepal Army Officer Cadets English Questions
Nepal Army Officer Cadets Math Questions