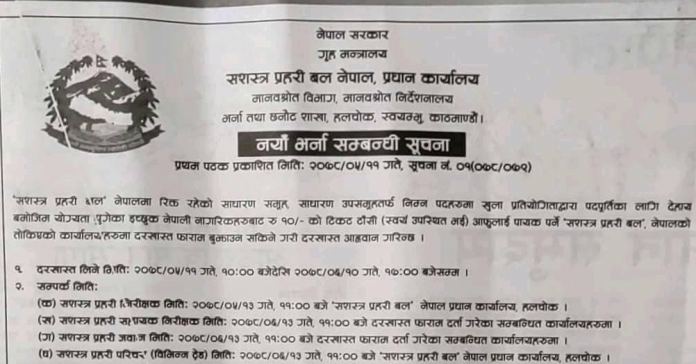 Here is the notice of Nepal armed police force job. You can find all the details of Nepal armed police force job information over here.
Nepal Police Officer Job Notice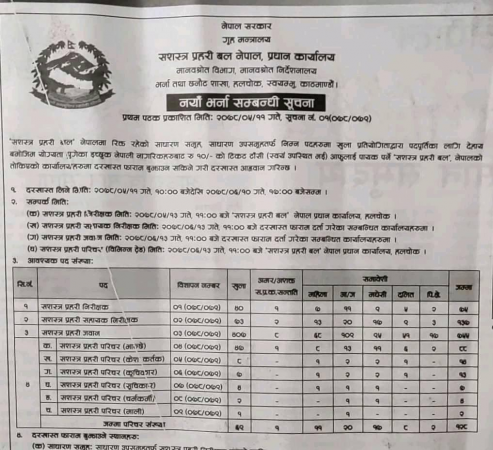 Recently Nepal armed police force has announced the vacancy for the MBBS doctor in its organization. We have attached the details of the notice in this article
Nepal Police Force Job
Nepal armed police force job in the position of doctor is now open. This post is the officer level job in the armed police force. There is altogether 10 vacancy for the doctors.
This 10 vacant post includes all madeshi, women and dalits. So this is good opportunity to serve country as a doctor in armed police force.
Vacancy Notice of Nepal Armed Police Force Job
The minimum qualification for this job vacancy
The candidates should not exceed 30 years. They must have complete MBBS or equivalent study. The candidates must have register in Nepal medical council. Male height is minimum 5 feet 2 inch.
Similarly for the female candidates the height must be minimum 5 feet. The minimum weight for the male candidates is 50 kg.
Whereas female candidates' minimum required weight is 42 kg. For further details please refer the attached copy of Gorkhapatra national daily over here.
The two recommendation letter from the graduated officer of Nepal government is also needed together with the application form.
Selection Process
There are six stages of selection process. The very first stage is the elementary physical test. So after the completion of the elementary physical test there will be physical compatibility test.
There will be written exam as well as interview. On the top of this the candidates have to face the detail health checkup and test. Therefore candidates fulfilling all these stages will be finally selected as the successful candidates.
Well finally we would like to suggest you all to prepare well for the written exam and interview. We have an article how to face the interview in this site so you can see it once for your help and support.