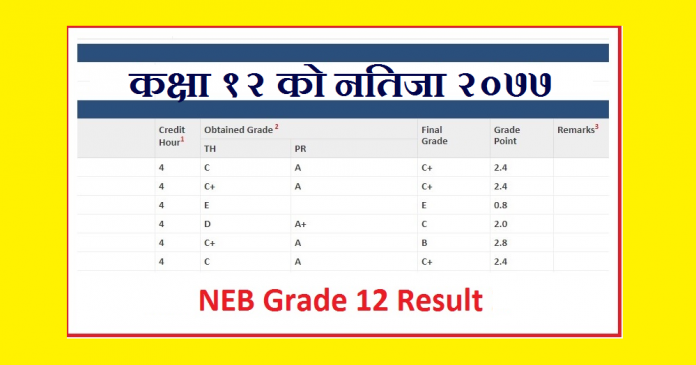 NEB Nepal 2077 Class 12 Result is in final stage to publish. According to the National Examination Board Nepal final checking of marks entry is going on.
Class 12 Result before Magh 10 2077.
NEB Nepal 2077 Class 12 Result
National examination board Nepal is going to publish the class 12 result within 10 of Magh 2077.
We hereby inform you all about the result publication. This year the board examination was held nearly 7 months late. Similarly all the schools were the exam center for grade 12 exam.
The question papers were sent via email in the respective schools. However the remote schools have got the hard copy of the question paper in advance.
This year due to corona virus the examination board is not able to run the scheduled exams in time. Grade 11 students are evaluated by the respective subject teachers of their own school. However for class 12 there was a kind of mechanism for the result.
Class 12 Result formation
The board exam question paper for class 12 was of 40 marks. Next 40 marks is based on the class 11 board exam performance and the final 20 marks is the internal practical evaluation. So in this way this year class 12 final result is prepared.
Bachelor Level Entrance Exam Notice
Several Colleges have already announced the entrance exam date for bachelor level study. So at this moment all the class 12 students are hunting for the best college for the university level study.
So if you want to study software engineering you can choose Gandaki College of Engineering and Sciences. It is located in the peaceful environment of Lamachaur Pokhara. If you want to know more about it you can directly contact to the college administration during the office hour from Sunday to Friday.
Class 12 Result 2077
Here are the steps to check the class 12 result. Find the online result of class 12. Just follow these steps to get the online result of class 12.
How to get the Result with Grade Sheet?
The online result with grade sheet is available here. Nepal telecom provides the result with grade sheet in its website.
First of all go to www.neb.ntc.net.np
Enter your exam roll number and date of birth.
Finally submit the details to get the online result with grade sheet.
Just following these steps you can get the online result. At the same time if you have any problem while getting the online result contact us.