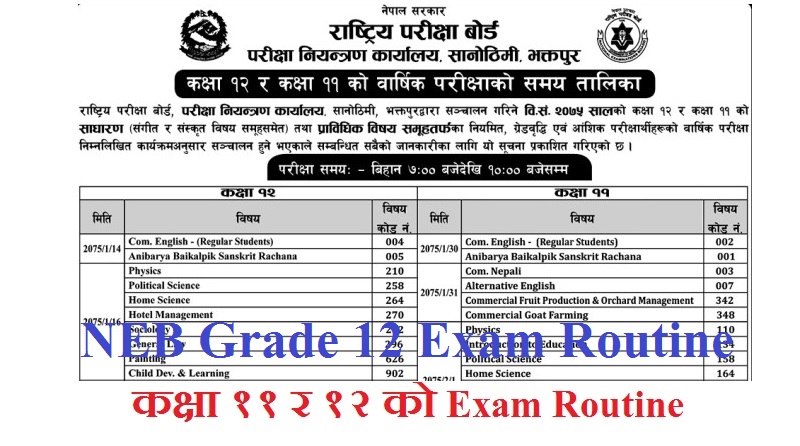 NEB Grade 12 Exam Routine has published. So you can download the complete NEB Grade 12 Exam Routine from here.
NEB Grade 12 Exam Routine
National examination board Nepal has published the NEB Grade 12 Exam Routine. According to the published NEB Grade 12 Exam Routine grade 12 exams begins from 14 Baishek 2075. This time national examination board has published at the same page. Therefore if you have any friends or relative appearing the board exam please share this information to them.
National examination board NEB grade 11 routine is also out at the same time with grade 12 routine. According to the given timetable grade 11 exam begins from 30 Baishek 2075. Perhaps this may be the last board exam for grade 11. Learn from the concerned source that there will be internal exam for grade 11 from the next academic year. However it is yet to be seen in practice in the days to come.
How to Download the Exam Routine
Well if you wish to print the exam routine you can do it from this page. Just click on the image of the exam timetable and then save it in your laptop or desktop. It is the open free source so you do not charge the user while using the materials available in our web page.
Many students are wondering about the way of studying. Some students even tell with us that I study a lot but cannot remember. So there are scientific ways of studying. You can reduce your study time to learn the same matter by using different techniques. On the other hand your memory power will also increase sharply.
Scientific Techniques of Studying
The things you learn in 2 hours can be learnt in 15 minutes. Can you believe this or not. Yes by using the several techniques of learning you can do so. Here we give you the best way of learning. These techniques will help you to improve your memory power too. We have an article in the title "How to increase memory power" see this article for the details about the studying techniques.