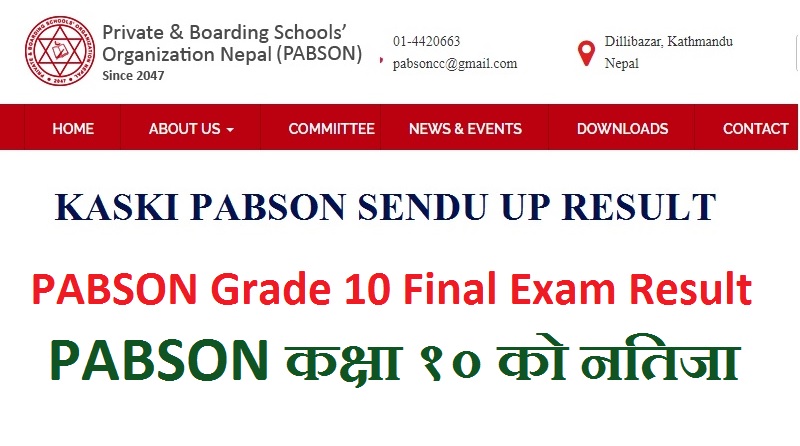 Here we have PABSON Grade 10 Final Exam Result. So students of PABSON affiliated schools can see their result over here.

PABSON has recently published the grade 10 final exam results. So we are here to give the detail information about it to the students and parents. The result is attached at the end of this article.
Send Up Exam History in Nepal
This final exam of grade 10 before they appear SEE exam is also called Send up exam. In the past there used to be send up exam. Students must pass the send up exam to sit the then SLC board exam. But it has been couple of years that government has removed the system of send up exam. It means if a student is able to pass grade nine final exams then he or she is automatically eligible for the SEE board exam.
Kaski PABSON School List with School Code
There are nearly hundred schools affiliated to Kaski PABSON. The detail list about the schools and their code is in our previous article. So interested can visit our previous article for the further detail.
The author of the article is the 25 years' experience teacher working in the renowned schools of Nepal.  Hence these questions are very useful for the SEE preparing students. Instead of repeating all the questions over here please follow the link given here to reach the question bank.
Here also you will find hundreds of optional mathematics question for grade ten students. Basically this question collection in prepared for the SEE exam preparation. So we would like to suggest all the SEE candidates to practice these questions before sitting for SEE exam. We are sure the solution of these questions will certainly help you to build the confidence in your board exam.
PABSON Grade 10 Final Exam Result
On the top of this if you have any questions regarding your grade ten send up exam or SEE board exam please feel free to contact us. We will try to provide timely help and support to solve your problem.
Finally wish you all the best for your upcoming SEE 2074 exam.  Good luck for your PABSON Grade 10 Final Exam Result.