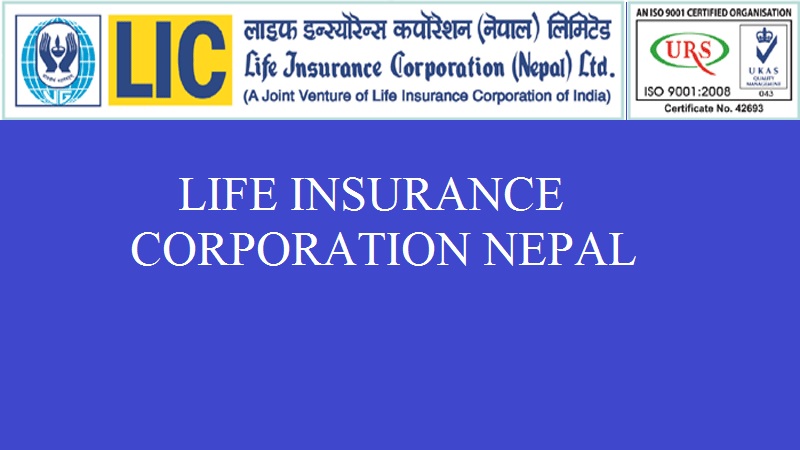 Here we discuss about life insurance corporation Nepal. It is said that the only business organizations which have never gone down in the world is life insurance companies. Life insurance corporation Nepal is the leading life insurance company in Nepal. While talking about insurance companies there are two types of insurance companies, they are as follow.
·        Life insurance companies
·        Non-life insurance companies.
Life Insurance Corporation – Life Insurance Corporation Nepal
While talking about life insurance companies in Nepal, there are several life insurance companies. Among the various companies Life Insurance Corporation is one of the reputed companies in Nepal.
Services of Life Insurance Corporation Nepal
Acceptance of Premiums
Revival of lapsed Policy
Policy Loans
Nominations
Change of address
Mode of payment
Surrenders and cancellation
LIC Nepal is one of the largest capitalized insurance companies in Nepal. It is the joint venture of life insurance corporation India and Vishal group of Nepal. It has altogether 34 branches in Nepal.
LIC Nepal has started its operation since 2001. It has good coverage in the Nepali market. The head office of LIC Nepal is in Kathmandu.
The Policy holder of LIC Nepal can pay their premium from the following banks.
Rastriya Banijya Bank
NCC Bank
Bank of Kathmandu
Machhapuchre Bank
Laxmi Bank
Nepal Bank Ltd.
Nabil Bank
Nepal SBI Bank Ltd.
Why do you need life insurance?
Life insurance plays two types of roll. Firstly it is force saving for the family. Secondly it gives financial support to the family in case of untimely dimes of family supporter. On the other hand it gives good return after maturity. Similarly the policy of life insurance can be used as collateral to get loan from banks and other financial institutions.
Life insurance corporation Nepal is the first and only life insurance corporation in Nepal to get ISO 9001 2008 Certificate. So it also proves the efficiency of LIC Nepal.
So it is better to insured life in any life insurance company and make the family more secured.