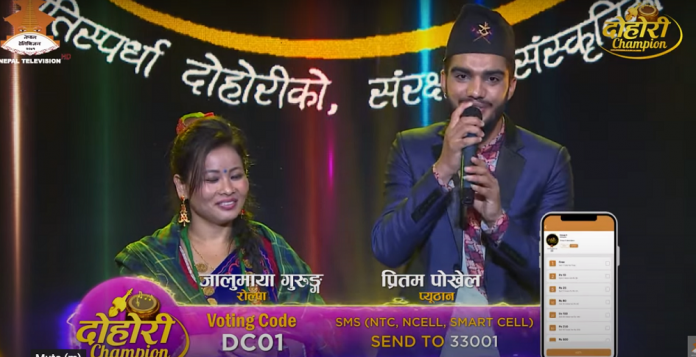 Are you searching about How to Vote in Dohari Champion? Well follow these steps to learn about Dohari Champion voting methods.
Match Fixture of Dohari Champion
Here is the fixture for the voting round. According to the fixture the first battle is between the following teams.
Dohari Battle 1
| | | |
| --- | --- | --- |
| Jalu Maya Gurung and Pritam Pokhrel | Versus | Sita Ghimeray and Saroj Simkhada |
Battle 2
| | | |
| --- | --- | --- |
| Tara Thapa Tek Raj Bhandari | Versus | Sabin Acharya Rita Rawat |
Battle 3
| | | |
| --- | --- | --- |
| Meena Budathoki Prakash Parajuli | Versus | Sangina Thapa Deelip Thapa |
How to Vote in Dohari Champion?
There are two different ways to vote your favorite contestants. Like voting from Nepal and voting from abroad. Well, if you are in abroad you can vote your favorite team by using Nepal Television application.  
So for this you have to download the mobile application. The NTV mobile application is available both in App store and play store.
NTV Mobile Application
You can download this application in your mobile phone. When you get this application in your device you get this interface. There you can SEE the Dohari Champion background with the picture of hosts. Hence it is very easy to get it.
Voting Steps
Get Nepal Television Application
Tap on the Dohari Champion Icon
Choose your favorite team
Finally submit your vote.
When you go to this application then you have to login. So you can log in from your Facebook account. One vote you can cast for free but for more votes you have to pay. The detail about it you can learn from the application itself.
similar to the competition there is next parallel program comedy Champion. You can vote in this competition as well.