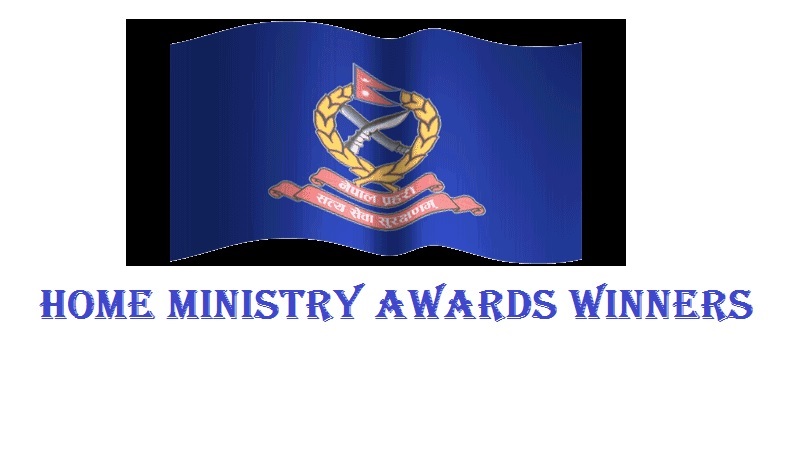 Here is the list of home ministry awards winner given away on the occasion of republic day. On the occasion of republic day home ministry awards are given for various persons. Today Nepal is celebrating the tenth republic day. So, nine years before Nepal was declared as republic Nepal by the parliament of Nepal. Since then Nepal has got two presidents. Ram baran Yadav is the first president of Nepal. Similarly Vidhya Devi Bhandari is the first women president of Nepal.

Home Ministry Awards Winners
Different level civil servants are awarded by home ministry on this occasion. Basically the people from army and police are given this award. So to get more information about it please go through the list attached in this article. At the same time Nepal government releases hundreds of prisoners on the occasion of republic day. Hence the winner of awards are as follow.
Home Ministry Awards Winner List

75 District Police Offices Duty Officer and Mobile Number
Zone
Office
Duty Officer
Mobile
Mechi
Jhapa
023-456100, 9852671555
9852615555
Ilam
027-520100, 9852690030
9852605555
Panchthar
024-520100, 9852681122
9852625555
Taplejung
024-460199, 9852690052
9852635555
Koshi
Morang
021-530358, 021-527900, 9852026750
9852005555
Sunsari
025-560100, 025-560308, 9852090127
9852085555
Bhojpur
029-420199, 9852090148
9852015555
Sankhuwasabha
029-560100, 9852090181
9852075555
Dhankuta
026-520100, 026-520698
9852035555
Terahathum
026-460100, 9852060199
9852095555
Sagarmatha
Saptari
031-520055, 9852890270
9852855555
Siraha
033-520005, 9852890044
9852865555
Udaypur
035-420199, 9852835277
9852815555
Khotang
036-420199, 9852805555
9852805555
Okhaldhunga
037-520199, 9852890050
9852875555
Solukhumbhu
038-520199, 9852825555
9852825555
Mid Region
Zone
Office
Duty Officer
Mobile
Narayani
Parsa
051-522151, 9855090136
9855075555
Rautahat
055-520099, 9855040999
9855035555
Bara
053-550100, 9855045101
9855005555
Makwanpur
057-520399, 9855090150
9855045555
Chitwan
056-520155, 9855090133
9855015555
Bagmati
Kavre
011-490202
9851235555
Sindupalchowk
011-620104
9851255555
Dhading
010-520199
9851245555
Nuwakot
010-560199, 9851282811
9851295555
Rasuwa
010-540199, 9851282801
9851275555
Janakpur
Dhanusa
041-520099, 9854026090
9854005555
Mahotari
044-522151, 9854030099
9854085555
Sarlahi
046-520714, 046-520099
9854075555
Sindhuli
047-520199, 9854090133
9854065555
Ramechap
048-540099, 9854040706
9854055555
Dolakha
049-421199
9854015555
Western Region
Zone
Office
Duty Officer
Mobile
Gandaki
Kaski
061-522099, 9856039599
9856005555
Syangja
063-420199, 9856090162
9856075555
Gorakha
064-420199
9856055555
Lamjhung
066-520199
9856015555
Manang
066-440199
9856035555
Tanahu
065-560199, 9856090178
9856065555
Lumbini
Rupandehi
071-520199, 9857090622
9857075555
Kapilbastu
076-560099, 9857090353
9857085555
Nawalparasi
078-520199, 9857065555
9857065555
Palpa
075-520199
9857095555
Arghakhanchi
077-420199, 9857090352
9857005555
Gulmi
079-520199, 9857061710
9857015555
Dhaulagiri
Baglung
068-520199, 9857620003
9857605555
Parbat
067-420199, 9857630551
9857615555
Myagdi
069-520299, 9857640444
9857625555
Mustang
069-440099
9857635555
Mid Western Region
Zone
Office
Duty Officer
Mobile
Rapti
Dang
082-560199, 9857890101
9857805555
Pyuthan
086-420049
9857815555
Rolpa
086-440199
9857825555
Rukum
088-530187
9857835555
Salyan
088-520099, 9857890077
9857845555
Bheri
Banke
081-520211, 9858090110
9858055555
Bardiya
084-420199, 9858090101
9858035555
Surkhet
083-520199, 9858090190
9858005555
Dailekh
089-420113, 9858090122
9858015555
Jajarkot
9857890202
9858045555
Karnali
Jumla
087-520013, 087-520263
9858325555
Kalikot
087-440083, 9858390011
9858335555
Mugu
019-460099
9858345555
Humla
019-680055, 9638819953
9858315555
Dolpa
087-550056, 9847815049
9858305555
Far Western Region
Zone
Office
Duty Officer
Mobile
Seti
Kailali
091-521150
9858425555
Doti
094-420205, 9858440199
9858435555
Acham
097-620199, 9858490126
9858405555
Bajhang
092-421005
9858415555
Bajura
097-541130, 9858490053
9858445555
Mahakali
Kanchanpur
099-521200, 9858752200
9858735555
Dadelhhura
096-420199, 9858790070
9858715555
Baitedi
095-520199, 9858705555
9858705555
Darchula
093-420199
9858725555