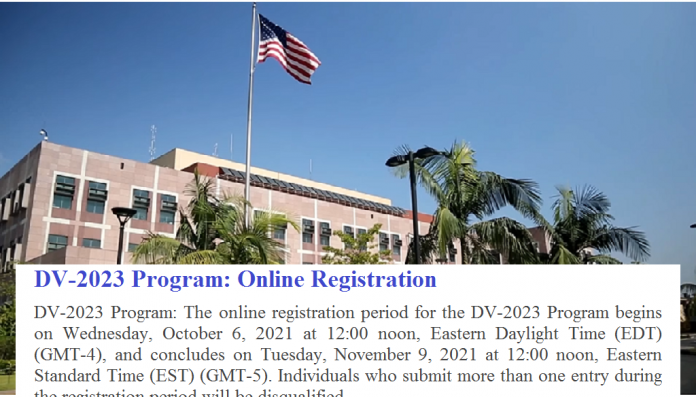 The state government has published FY 2023 DV Lottery Registration Notice. Here is the detail of the notice from US embassy Kathmandu.
FY 2023 DV Lottery Registration Notice


Diversity visa lottery is the unique program of the US government. Every year these lottery programs provide 55000 immigrant visas. Basically people from those countries having low migration rate in America are eligible for this lottery program.
Rules for EDV 2023
Individuals from the eligible nations can participate in this green card lottery. So, before starting the online dv lottery application read these instructions properly. A single minor error in your application form results disqualification of the application form.
Do not use glass in the dv lottery photo.
Give the correct passport number and expiration date.
Do not include any fake information.
You cannot submit more than one entry form for the lottery.
Provide correct size dv lottery photo.
These are some important points. You can more about the diversity visa lottery in our previous articles.
EDV 2022 from October 6
The online dv lottery application for fiscal year 2023 begins from October 6 2021. Hence you can submit your online dv lottery form from tomorrow. According to Nepal local time it will start from Ashoj 20 at 9.45 PM.
Who Can Apply DV 2023?
Individuals from the eligible nations.
In certain case people from ineligible nations can submit the dv application if the spouse is from eligible nations.
You must have minimum high school degree or 2 years of verifies work experience for the last five years.
How to Register for DV Lottery?
Entrant must submit online application form. You cannot download it.
Read the official instructions of the state government before applying for the dv lottery.
Only one entry is permitted for the individual. It means if you submit more than one application form it will disqualify you from the random selection.
Keep the confirmation form safe. It is necessary to get the online dv lottery result.
EDV 2023 Result
Diversity visa lottery is completely computer based random selection process. Hence there is no human influence in the result. The state government will publish the dv result 2023 by May 8 2022. You can get the result from the official page of dv lottery.