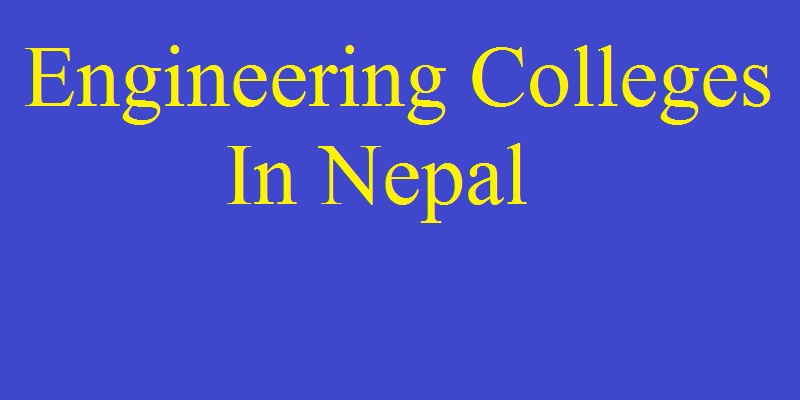 Plus two graduates are in search of colleges. They are always in rush. Students are looking for better colleges. They are looking for bachelor study. Here we provide the courses offered by Universities of Nepal. This can be helpful to them. The name of different engineering colleges of Tribhuvan University is included in this article. Purbanchal University courses are also included here. There are several engineering colleges in Nepal. They are affiliated under four Universities in Nepal. They are Tribhuvan University, Purbanchal University, Pokhara University and Kathmandu University. There are nearly forty engineering colleges in Nepal. These institutions are  in various parts of the country. We try to give information about all these  institutions. The demand of engineers is growing in Nepal. They are well paid all over the world. So the students are willing for engineering study.
Engineering is the well demanded subject so there is pressure of students in colleges. On the top of this many students go abroad for study. Due to lack of seats in colleges in Nepal they go abroad. So more colleges should be open in Nepal.
 The article describe about engineering study. It includes the other courses in bachelor level offered by Purbanchal University. This university is based on eastern part of Nepal. The knowledge about colleges and the courses offered by them is sometime much valuable. Students can make their choice according to their needs. So GbsNote can be a helpful for the students. So we always try to give holistic academic knowledge to the students and parents.
Hence we give  the information about the colleges you can find practice questions for engineering entrance exam. Similarly we provide online as well as offline help and support to the students. Students can put forward their problems to us. We will try to give the solution from the subject experts. We give more ideas for students. It is our attempt to help students. It is free of cost. There is no any hidden charge. No any subscription compulsion. Students get knowledge at no cost. We give you the notices of scholarship for all levels. Therefore it is our attempt to provide academic information to the students.
List of  Engineering Colleges in Nepal
 If you like this article please share it.  So inform to your friends about it. We always welcome the  suggestions from the students. Therefore parents, teachers and other stake holders can suggest us. Your suggestions are always welcome because will try to provide the items on the basis of the demands of students and parents. If you feel any kinds of improvements to be made in this site please feel free to contact us.
You can send your email at [email protected]. We will reply you as quickly as possible. So it is the online solution for students. Also GbsNote provides notes for entrance preparation. We also give counseling and ideas. Also we help for poor students. And we give notices of abroad scholarships. Therefore students are encourage to like our official Facebook page. Our Facebook page is gbsnote.com. So like this page and get fresh academic news. Finally we wish best of luck to you all.
The list of engineering campus in Nepal are kept in this site.