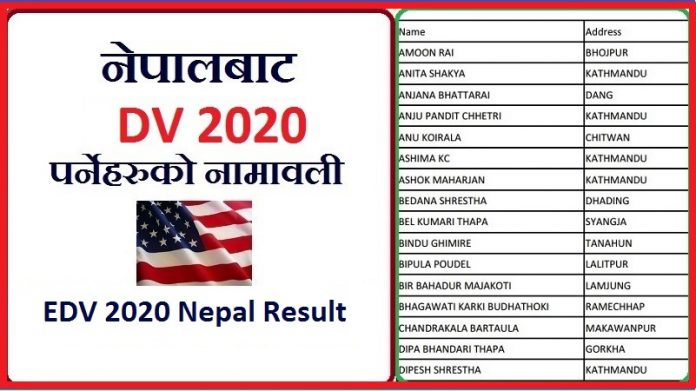 EDV 2020 Nepal Result is available here. So the applicants from Nepal can check their DV result from this EDV 2020 Nepal Result page.
EDV 2020 Nepal Result Lot 3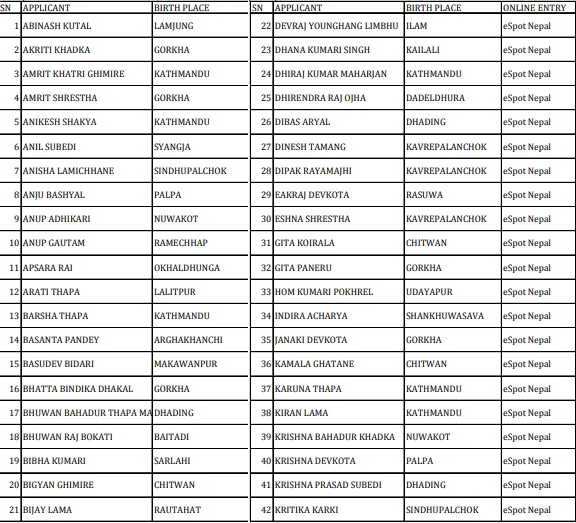 It is our attempt to collect the name list of DV winners from Nepal. Therefor for this we are asking to suggest us as if you are the dv winner leave your name and address in the comment box below.
Hence if you have won the dv lottery provide your details in the comment box below.
Well as mentioned above we prepare the DV winners name list. As soon as the state government publishes the DV Result we will start to make the EDV winners name list.
Last year too we have prepared the DV winners name list. As the last year this year too we expect the cooperation from our visitors to prepare the DV winners name list.
We have several articles about EDV 2020 Nepal Result. Hence if you are new in our blog please check other articles about diversity visa lottery. There are more than hundred articles about EDV result, dv application steps and many more.
However we will give you the easy steps to get online EDV result. Just follow the given steps to get your online EDV 2020 Nepal Result.
Go to the official website of state government of America.
The official site is dvlottery.state.gov
Here enter the conformation number.
Similarly give the family name i.e. the surname.
Prove that you are not robot.
Then finally submit the details for the online result.
What happens if Confirmation Number is Lost?
It is very common the many dv lottery applicants lost the conformation number. But still you can get your online result if you lose your conformation number. So for this purpose go to the official page of dv lottery.
There you can find the button written confirmation number lost. Follow this link and go ahead to get the online DV result.
DV Winners Life in America
The author of this article has many friends in USA as dv lottery winners. Truly speaking the feedback of the dv winners living in America about American life has mixed ideas.
Like some of them are happily living smiling lives. However some of them are not as happy as others living over there.
In some cases some DV winners Nepalese are found quitting the green card and returning back to Nepal. Hence this lottery has no concrete and single conclusion. It is valuable for some people where as other are quitting it.
What is your Perception about DV Lottery?
We want to collect the opinions of our visitor about DV lottery. Therefore if you want to participate in this campaign leave your idea in brief in the comment box below.
DV Lottery Applicants from Nepal
Every year millions of Nepalese apply for the diversity visa lottery. In the past, people have to send the application form via post office.
But it has been many years that the application in now in digital form. Hence it is now easy to submit dv lottery form.
When will DV lottery 2020 Publish?
DV 2020 result is almost ready to publish. However, officially state government will publish the EDV 2020 result in May 7 2019. So from Nepal too you can get the online EDV 2020 result from May 7 onwards.
EDV 2021 Application form
State government publishes the application form notice in the month of October every year. Hence for the DV 2021 the application period will be similar to previous years. If you are not able to win the DV 2020 try for the next year.
DV Winners from UAE
It is our attempt to collect the dv winners name list from United Arab Emirates. There are many Nepalese people living and working in UAE. They are eligible to submit the DV lottery application form as Nepalese living in UAE.
EDV 2020 Winners from Korea
Thousands of Nepalese are working in South Korea under EPS TOPIK scheme. There are also eligible to submit edv application form. Here we try to collect the name list of DV winners from Korea.
DV Winners from USA
Nepalese students studying in America are eligible to fill the online DV form. There are many Nepalese students who have won DV lottery living in USA. Hence we are collecting the name and address of Nepalese winning the dv lottery living in USA itself.
EDV 2020 Winners from Europe
Nepalese people from Europe are also filling the online DV lottery form. Hence under the category EDV 2020 Nepal Result we include the dv winners' Nepalese living in Europe too.
There are many issues about diversity visa lottery. So if you have any kind of problem about
EDV contact our foreign affairs bureau. They are always ready to help you. So do not hesitate to contact us if you are in trouble.
How to Proceed for Visa Interview
DV lottery first letter do not conform your US visa and green card. So you have to wait for the second letter. As soon as you get the second letter you have to prepare for visa interview.
At the same time you have to fill the next form when you receive the second letter.
DV Lottery Statistics
According to the DV lottery statistics last year nearly five thousand Nepalese were able to get the visa under the EDV category.
This year EDV 2020 Nepal Result will also provide similar number of people for American green scheme.