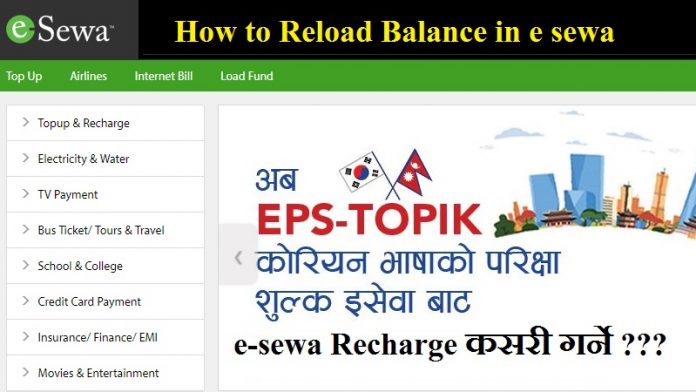 Here we give the different ways to recharge e sewa account. E sewa is an online wallet. It gives facility to make online payment in different categories.

How to recharge e sewa account?
There are different ways to reload balance in e sewa account. So we give the list of methods to recharge electronic sewa account.
Here is DV 2020 result notice. Check the online edv result from here.
Balance Transfer from Bank Account
There are several partner banks of this sewa. So the account holders of these banks can directly transfer balance from bank to sewa account. Details of the partner banks are available in the official site of this sewa.
E sewa Fund Load in the local Agent
Free fund loading facility is available in any electronic sewa agent counter. So if you do not have bank account go to the agent office and make free fund load in your sewa account.
Fund Load from your Friends or Relatives
Beside the above methods you can receive the balance in your sewa account from your friends or relatives who are using thing service. Therefore if you want to load balance in your account you can follow this method too.
For more details about e sewa, it is available in toll free number 1660 01 02121
Facility of Electronic Sewa Wallet
This online wallet sewa provides chance to make online payment in different sectors.
Mobile recharge from this sewa.
You can pay the electricity bill and phone bill by using this facility.
TV bill payment
Bus ticket and air ticket
School and colleges fee payment
Credit card payment
Movie ticket purchase
On the top of this there are cash back and discount while making online payment using this sewa. Similarly it saves time for your work.
EPS TOPIK Exam Fee Payment
Recently this sewa has made the new scheme to pay EPS TOPIK exam fee. Hence the candidates of EPS TOPIK can pay exam fee using this sewa account.
If you have any question about this sewa you can contact us. We are ready to solve your problems about this online payment system of Nepal.