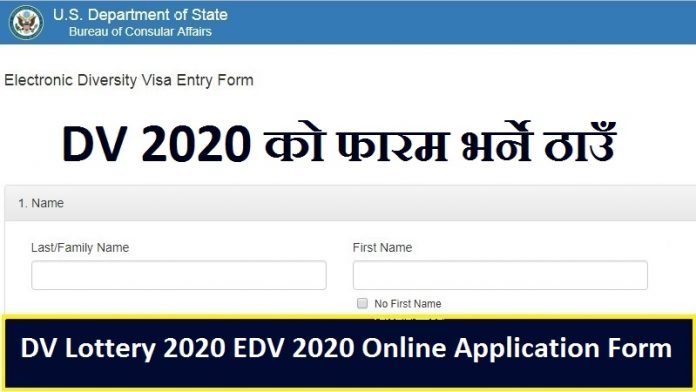 DV Lottery 2020 EDV 2020 Online Application Form is open now. So the interested can fill DV Lottery 2020 EDV 2020 Online Application Form here.


DV Lottery 2020 EDV 2020 Online Application Form
Here we provide step by step process to fill online edv form. So follow these steps for online application. The most important thing during the online application is the size of the photograph. We suggest you to check the photo size before final submission.
As mentioned above DV photo size is very important during the online application. Hence we suggest you to make online checking before submitting it. We have several articles about DV photograph. Therefore if you are new in our web portal do not forget to check these articles.
The state government has published the notice for online application. According to the given notice dv lottery 2020 starts from October 3. Last year dv lottery was disturbed for two weeks.
We have been giving all the information about dv lottery from this page. So if you have any question about dv lotteries send your question to us.
Here is the name list of 2020 dv winners. So you can check your name from the given list. At the same time if you have any problem while finding the result contact us. GbsNote is working for the dv lottery applicant's welfare for many years.
How to the DV forms Via Mobile Phone
Well if you have android phone and internet facility then you can easily fill the dv form. So for this purpose we have to prepare the photograph before you start to fill the form.
Steps for Online Application
First of all go to www.dvlottery.state.gov
It is the official website for dv lottery application
Fill all the personal details properly.
Make the final checking of the details.
Provide the correct dv size photo graph.
Finally submit the online application.
So just following the above steps you can fill the online EDV form. It is not necessary to pay big amount for the agents to fill the dv form.
Finally we would like to express very best of luck for DV 2020 applicants.