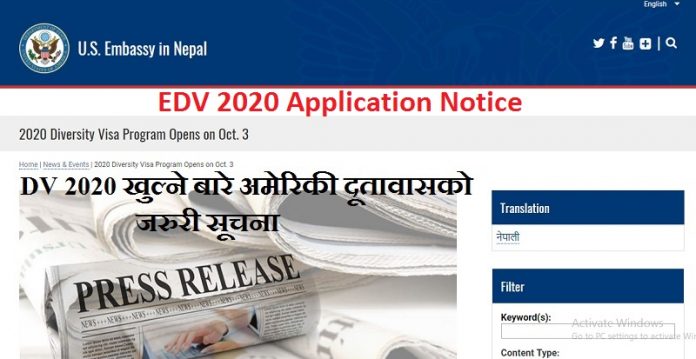 State government has published EDV 2020 Application Notice. According to the given EDV 2020 Application Notice online application begins from October 3 2018.
EDV 2020 Application Notice
Here is the detail of the EDV 2020 Application Notice. So kindly request you all to go through this notice properly. As we mentioned in our previous articles US government has made new provision for 2020 dv lottery.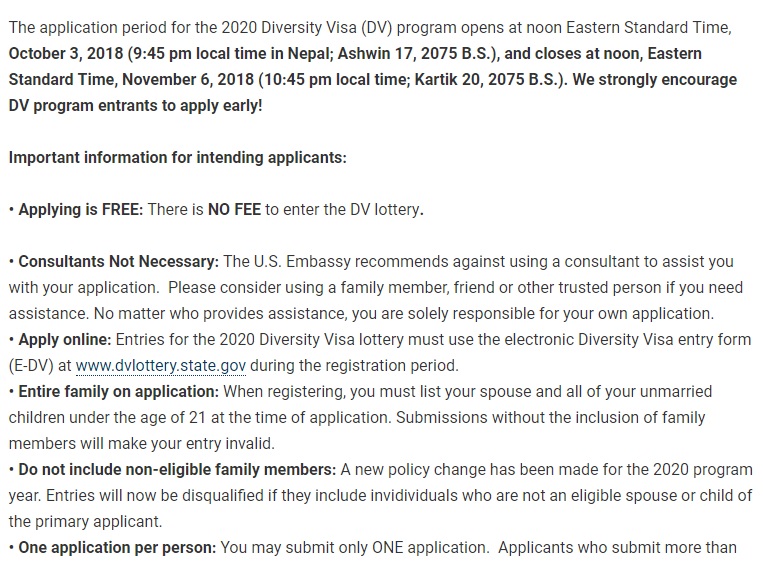 Therefore it is very important to know these new rules. Breaching the rules results disqualification of the application.
DV Lottery 2020 New Rules
Well for your information here are 2020 edv new rules. According to the information given by US embassy Kathmandu here are the highlights of the new rules.
You cannot make two applications being the main client.
The ineligible person cannot be included during the application.
The photograph must be free from hat, glasses etc.
The photograph must be the recent one.
Online EDV 2020 Form
EDV 2020 online form is available in the official website of dv lottery. The official website of dv lottery is www.dvlottery.state.gov.
So you can easily fill the dv lottery form just by following the above link.
Beside this if you want to know more about the new rules check our previous articles. We have been working for DV applicants help and support for many years. So if you have any questions about DV lottery leave your comment in the comment box below.
EDV Lottery Disqualification Circumstances
As mentioned above in the dv rules if you are not able to fulfill those conditions at that moment your application will be disqualify. The most important thing is the size of your photograph. So we suggest checking the size of your photo before submitting the application form.
EDV 2020 Online Result
State government will publish the dv 2020 on May 7 2019. So you have to keep your conformation number safe. This conformation number is very important so do share it you anybody.
What Happens if I Lost the Conformation Number?
We strictly suggest you all to keep this number safe. But by the way if it is lost still you can check the result. In the page of www.dvlottery.state.gov there is option to check the online result without conformation number. So we suggest you to follow this procedure for the result.