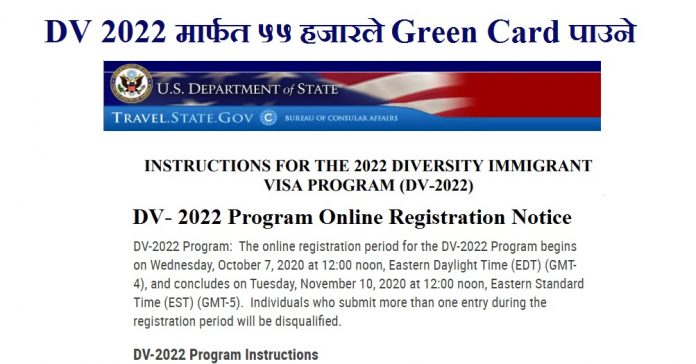 U.S. Department of State has published the DV-2022 Program Registration Notice. The copy of the official notice is given below.
DV-2022 Program Registration Notice
Online registration for DV 2022 program begins on Wednesday October 7 2020 at 12:00 noon Eastern Daylight Time (EDT) (GMT- 4) and concludes on Tuesday November 10 2020 at 12:00 noon Eastern Standard Time (EST) (GMT-5).
According to Nepali time DV 2022 begins at 9.45 pm Wednesday October 7 2020. It means by today evening the online DV lottery registration begins.
DV Program 2022 Instructions
Program Overview
DV lottery is the official program of state government. Hence it has not cost for the application. Basically for the fiscal year 2022 US government is a providing 55 thousands dv lottery visa through this program.
Applicants who are selected in the DV lottery must meet simple but strict rules to get visa. All the winners must face the visa interview in their own countries American embassies.
Eligibility
Requirement #1:
Natives of the countries with low rate of immigration to USA may be eligible for the entry. Nepal is eligible for the DV 2022 program. If you want to learn more about it you can see the official page of state government. More detail about eligible nations.
Requirement #2:
Each DV applicant must meet the education and work experience criteria.
You must have minimum high school degree education. It means 12 years of formal education. In the context of Nepal dv applicant must have minimum grade 12 passed certificate.
If you do not have 12 years formal education then you need minimum 2 years of work experience with in last five years which requires minimum two years of training.
Completing your Electronic DV 2022
You can register dv lottery application yourself. In case if you go to visa consultant or any other facilitators remain there yourself. At the same time answer the questions correctly asked by the agents.
DV Online form is available at www.dvprogram.state.gov
Never ask to complete your application to the third part. On the other hand keep your confirmation page and unique confirmation number safe. It is required for checking the entrant status during the result.
DV Photo Requirement
Your DV Lottery Photo must meet the following criteria.
DV photo must be in color.
It must be in focus.
Your DV photo should cover above 50 percent space by your head.
Photo must be recent to reflect your current appearance.
Back ground of the photo must be white or plain off-white.
Photo must be full-face view directly facing the camera.
With a neutral facial expression and both eyes open.
Taken in clothing that you normally wear on a daily basis it means do not wear ornaments.
Uniforms should not be worn in your photo, except religious clothing that is worn daily.
Not hat or cap beside cultural purpose.
Headphones, wireless hands-free devices, or similar items are not acceptable in your photo.
Do not wear eyeglasses.
If you normally wear a hearing device or similar articles you can wear them.