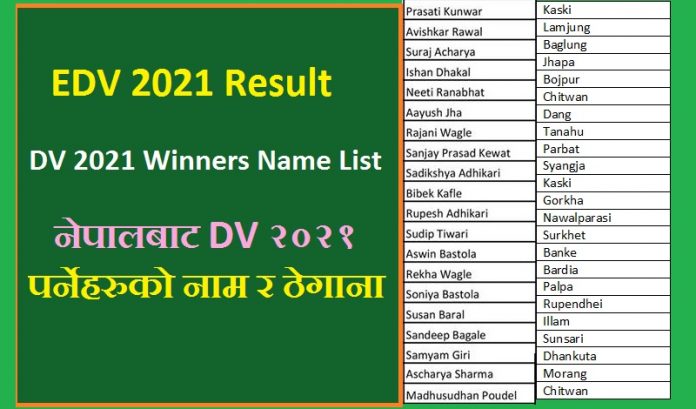 DV 2021 Winners Name List we publish in this page. So the DV 2021 can check the winners name list from this page.
DV 2021 Winners Name List
Every year we publish the DV lottery winners name list. We have collecting the DV winners name list by different ways. We collect the dv winners name list from our comment box.
Here we publish the DV winners name list in this format.
Aalok Aryal Lalitpur
Ashesh Chandra Bhattarai            Ilam
Jivan Kandel Sarlahi
Khagendra Kumar Sharma           Kathmandu
Manipal Kayastha Kathmandu
Niraj Baral Kathmandu
Roshan Kumar Yadav Dhanusha
Samrat Pandey                                  Rupandehi
Sangam Babu Baral Kathmandu
Sushant Sah Siraha
Aaryashree Lamichhane Kathmandu
Alice Bhattarai Kaski
Chandrama Thapa Baglung
Dibya Dhakal Kathmandu
Jessica Dhungana Kathmandu
Manjila Pandey Kathmandu
Nabina Shrestha Dhading
Namrata Shrestha School Dhading
Pranita Ojha Kathmandu
Pratibha Adhikari Lalitpur
Rachana Gurung Pokhara
Roshna Tandan Rupandehi
Rubika Poudel Morang
Rupa Chaudhary Kathmandu
Sadiksha Neupane Banke
Sahinoor Gautam Makawanpur
Samarika Titung Dhankuta
Samiksha Neupane Banke
Sampada Niroula Sunsari
Sampada Sapkota Kathmandu
Similarly the DV lottery agents also publish the winners name list. So in such way we prepare the name list of DV 2021 winners this year too.
How to Check DV Online Result
Well it is easy to get online DV Lottery Result. So for this you have to go to the official page of state government. Just follow these steps for online DV Result.
First of all go to www.dvlottery.state.gov
Find the DV Result button over there.
Now enter the confirmation number.
Fill the family name and date of birth in the dialogue box.
Finally submit the detail for the online diversity visa lottery 2021.
We have collected the DV winners 2020 name list last year. So if you are interested about it you can see the name and address of DV winners 2020.
Alternative of DV Lottery
If you are not able to win the DV lottery no matter there are several other options for this. Like, you can apply for Canada Immigration. Here we give the details about online Canada Immigration form.
Live and Work Canada
The crime rate of Canada is less than the crime rate of America. So in several aspects living Canada is better than USA. Hence it is better if you are able to get migrant visa for Canada.
There are several jobs which do not need work permit in Canada. So these groups of people can directly apply for the working visa in Canada. More about Canada online application is available here.
Denmark is the next best destination for the Nepalese people to live and work. Hence you can apply of Visa Lottery in Denmark just following the few steps.
So if you have any confusion about DV lottery contact us. Our team is ready to help you. Leave your problem in the comment box below.