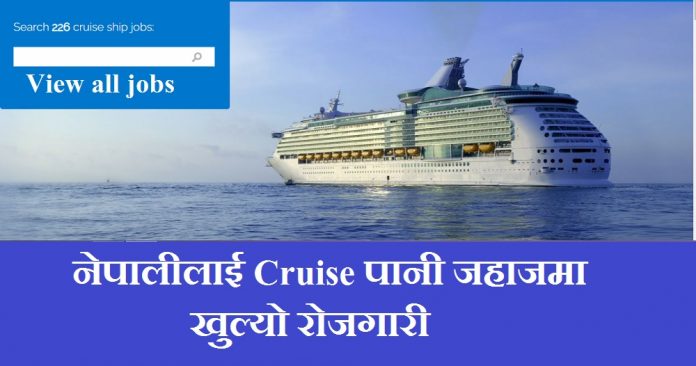 Cruise Ship Jobs for Nepali Citizens is very much attractive among the youths. Here discuss different jobs available in Cruise ship.
Apply Now
You can make your online eligibility test for the job. So, for this you have to complete this form.
200 Vacancy in France Army Job for Nepali Youths
25 Vacancy in Singapore Police Job
Cruise Ship Jobs for Nepali Citizens
Well, before we discuss on job details let us know about cruise ship. Cruise ships are vacationing ships. They can carry nearly six thousands tourists. Basically these Cruise ships go for round trip voyages.
Tourist gets great hospitality in cruise ship. There are all kinds of facility for the tourist including casino.
The largest cruise named Symphony of the Sea can carry maximum 6680. Now let us see the vacancy announcement in such cruise ships.
More about Symphony
It is the biggest cruise in the world till 2018. It is 361 m long. similarly it has 18 decks. There are 2200 crews in the ship.
Job Vacancy in Cruise Ships
Cruise Ships offers different kinds of jobs for the foreigners. Here is the list of job vacancy in such ships.
Restaurant Jobs in Cruise Ships
Some waiters and waitress are vacancy is operequired. Some Japanese language waiter and waitress is required. Similarly some German language speaking waiter and waitress is urgently needed for the cruise ship. So for the online application see the details at the end of this article.
House Keeping Jobs
There are different categories under housekeeping jobs. Hence we discuss them one by one.
Cabin Steward and Stewardess
The many responsibility of cabin steward is to keep the cabin neat and clean. It includes vacuuming, moping and cleaning windows. Under this title the applicants requires no experience. Hence the fresh people can apply for the job.
Store Keeper Job in Cruise Ship
Reference: PCK97-8329_1596779750
Published: 7 August 2020
Recruiter: V.Ships Leisure going to launch soon
Category: Provisions Jobs in Cruise
Position: Provision Master
Salary: not specified
So, if you are interested you can apply online for the post.
Spa and Beauty Jobs
The beautician and massage master are required for the cruise. If you have Japanese language speaking skill then you can apply for the post.
Casino Boy Job in Cruise
Some casino boys are required for the new cruise ship. The applicant must able to speak English fluently. So in this job there are already many Nepali youths working. Hence if you have good command on speaking English then you can apply for the post. The basic salary is USD 1000 including accommodation and fooding.
People are interested on: French Army Job
Finally we would like to express best of luck for all the applicants.
More about all kinds of Cruise Ship jobs is available at https://www.allcruisejobs.com/