National examination board has published 2078 SEE Exam Routine. Interested can get the copy of the exam time table from this page.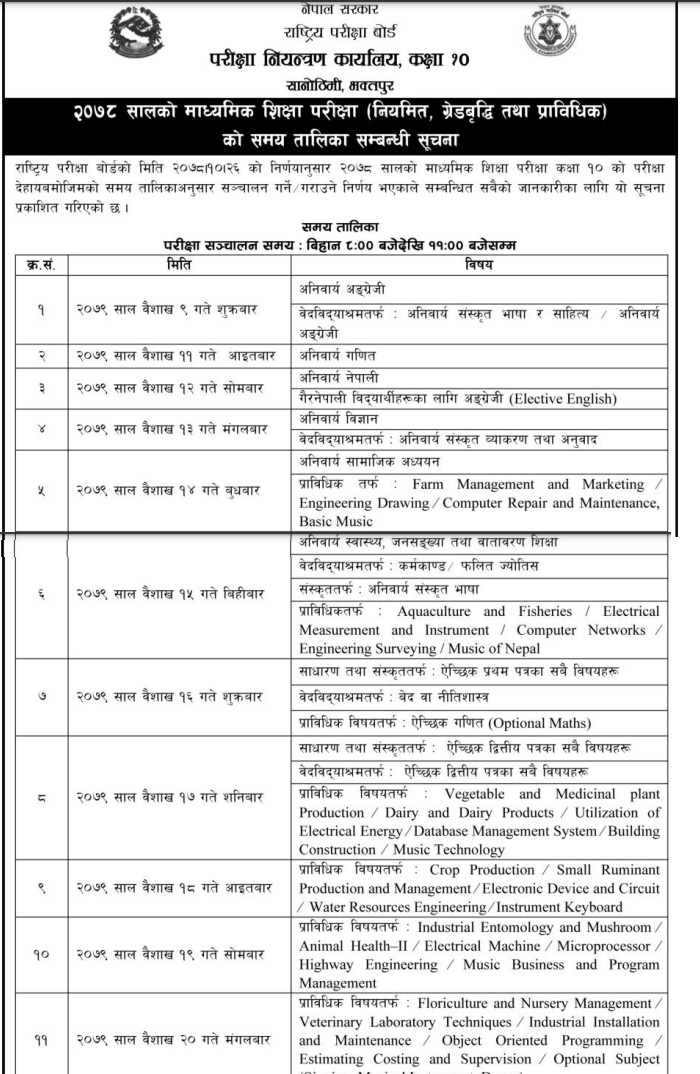 2078 SEE Exam Routine
Secondary Education board exam routine is out now. There are more than five lakh students for the SEE board exam this year. It has been two consecutive years that there was no SEE board exam. Due to covid pandemic board is not able to run the SEE exam.
How to Prepare SEE board Exam?
Students are always looking for this. We have been getting message to address this questions. Hence in this article today we give some tips for the board exam preparation. The most important thing for the students is the management of the time.
SEE Model Questions
It is the collection of model questions for SEE students. They are prepared by the senior teachers of the renowned schools. So students will find it useful for their exam. Similarly if you have any question in any subject of the SEE board exam you can send it to us. Our experts' team will give you instant answer on it.
Online Mock Exam
We provide online mock exam for the SEE students. If you want to participate on it send your details. We will plan accordingly for the exam. It is free of cost. Hence you can take the opportunity for the exam preparation.
Here you can find the collection of questions. These questions are collected from different schools of Nepal. So it will be helpful for the students to get idea on different types of questions.
Best plus Two in Nepal
Soon after the SEE exam result students have to search for the school or college for grade 11 study. Here we have the list of best schools in Nepal. Students can choose among them.
People Also Asked
Will there be SEE Exam 2078?
Well looking at the present situation there will be SEE exam 2078 with the physical presence of the students. Government is going to provide vaccine to the students against covid 19.
Is see 2078 Cancelled?
Government is planning to start the SEE exam at the middle of Baishek. Hence kindly suggest all the students for the nice preparation of the Secondary education board exam.
Will there be SEE exam in Nepal 2022?
National examination board Nepal is working to conduct the SEE exam in time. Therefore there is no doubt about the exam. Just it is now left to publish the exam routine. But as soon as the examination board publishes the result we will make it public in the page.
Is See Result 2077 published?
SEE result 2078 has been published. Hence the students can now check the result from the official page of Nepal government. Similarly the result is available in the Nepal Telecom web page as well.