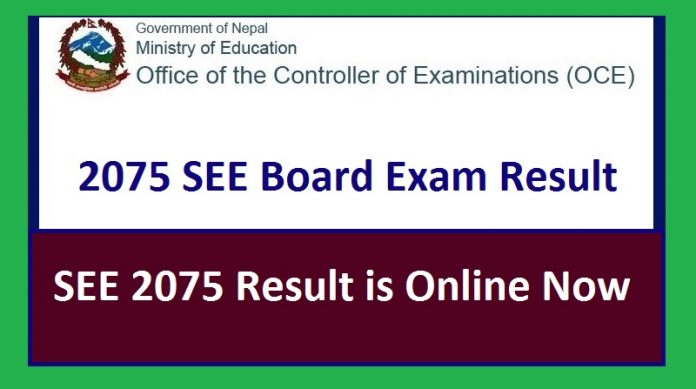 For 2075 SEE Board Exam Result meeting is going on. So far we have learnt 2075 SEE Board Exam Result will publish today at 5 pm. Hence we provide the easy and fast steps for the 2075 SEE Board Exam Result.
How to get Online 2075 SEE Board Exam Result?
Here are the steps for the online SEE 2075 result. As we talked in our previous articles there are several ways to get online result. Let us check them here one by one.
SEE result is available in many websites. However here we provide you some of the official sites working for the 2075 SEE Board Exam Result.
www.soce.gov.np
It is site of examination controller office Sanothimi Bhaktapur. It is the concerned authority for the conduction of the exam and publication of the SEE board exam result. Sometime due to high traffic it may not work so at that moment you can go to the following page.
This is the Nepal Telecom website for the SEE result. When you log in the above website you find a dialogue box. So to get the online result via this site you have to enter the exam roll number and date of birth.
www.neb.gov.np
This is web page of national examination board Nepal. It also gives the online SEE board exam result. As you know nowadays SEE result does not come in printing media. So, all the students must find their result via online sources.
If you are away from the internet facility then at that moment this can be the alternative way to get the SEE result. So following are the steps for the online SEE board exam result via sms.
First of all go to the message box of your mobile phone.
Type SEE <space> exam symbol number.
Send the message to 35001.
The PSTN and the CDMA users of Nepal Telecom can obtain the SEE result dialing at 1600. So after dialing 1600 from land line phone or CDMA phone you have to follow the instructions given over there.
How to Prepare Class 11 Entrance Exam?
Similarly there are several articles in our site about the grade 11 entrance exam preparation. So we suggest our entire visitor to check these articles for the entrance exam guide. We have hundreds of model questions set for grade 11 entrance exam. Do not miss them.