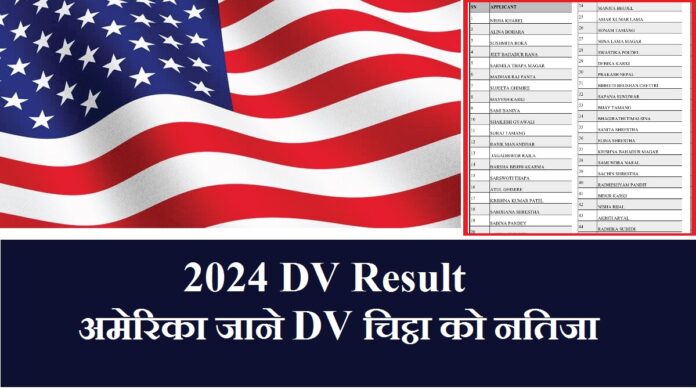 State government and the department of dv program publishes the EDV Result 2024. Millions are waiting for 2024 DV Result Publication Day.
Diversity visa lottery program publishes the EDV online result. So, the result will be online after 6th May 2023. In Nepal edv lottery result will be available after 9:00 pm on that day. It is the local time of Nepal for DV result.
2024 DV Result Publication Day
The state government server will be busy on that day as millions of people attempt at once to get the online result. Hence, we are working on it to collect the name list of dv winners from Nepal. This our personal attempt only. State government does not publish the name list of dv winners as edv result.
DV Winners from Nepal
The past DV lottery results show that around four thousand applicants from Nepal are able to get the diversity visa lottery. Hence this year too the number of dv winners will be more of less 4000 from Nepal. It is our wild guess only. The data may differ. The actual data of result dv program will publish later on.
Name List of DV Winners from Nepal
We are not the agent or any other authorized organization working for the dv lottery. It is our social responsibility to share the notices and information about the Electronic Diversity Visa lottery. It is no more than that.
The only way to get the dv lottery result is the official page of dv program. It is dvprogram.state.gov.
DV Lottery History in Nepal
In the early days of dv program people have to fill the hard copy of dv program form. They have to attach the color photograph in it. The completed application forms the applicant has to send via mail to American government and department of dv lottery.
But now time has changed. Due to rapid development in the area of internet it is now online application. The name of lottery changed from DV to EDV.
EDV Application Form
At this moment you cannot submit the hard copy of dv lottery application. It must be compulsorily online application. The free online application form is available in the official page of the state government. You have to login in this page and complete the online application of dv lottery.
How to Apply EDV?
EDV online application is easy and simple. Just go to the official page of the dv lottery. Fill all the family details as asked in the online application form. Provide the correct size digital copy of applicant's color photograph.
If you have any confusion while submitting the dv lottery application form, contact us. Our expert's team will help you in this regard.