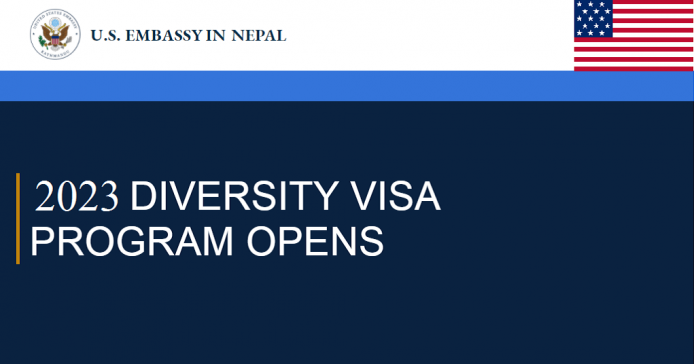 Here is the EDV 2023 application notice. So, go through these points carefully. Please read this 2023 Diversity Visa Programs instructions before starting online application.
Complete your dv lottery from via this page. It is completely free. You do not have to pay for this dv lottery form.
2023 Diversity Visa Programs
Online dv lottery application for the DV 2023 might starts at noon eastern daylight time (EDT), Thursday October 7 2021. The formal notice is yet to come. We can just guess it looking at the previous trends.
In previous year dv lottery was begun from 7 October 2020 and was ended by November 10, 2020. Therefore this year also it may start from Aswin 21 2078.
EDV 2022 Winners Name and Address
It is the name list of dv 2022 winners from Nepal. So, if you want to check the results see the name list of dv winners from the above link.
Important Points for DV Lottery Applicants
Application is Free: There is no fee to apply dv lottery.
No Consultant Required: You can complete your online electronic dv form yourself. It is not necessary to go to the agents for the online application. If you have internet facility then you can do it yourself.
Apply Online: No hand written form is accepted. Hence you have to submit electronic form. It means you have to complete the online digital form and submit it at the official page of dv lottery. It is www.dvprogram.state.gov.
Entire Family in DV Lottery: Fill all the details of all the members of your family. It will be difficult later on during the visa interview. Hence include all the family details during the online application.
One Person One Application: The principal applicant can submit only one application. If you submit two applications from the same applicant it makes your form disqualified. Such forms are not included in the random selection.
Always submit recent photo
Valid and unexpired Passport information is required.
Print the confirmation number obtained after the successful submission of the form.
Never share this number to others.
Beside this if you have any confusion about the online dv lottery applications contact us. Our team is ready to help and support the interested dv lottery applicants.
EDV Photo
It is very much important in the dv lottery. if your dv photo is not according to the given size and quality your form will be disqualified. Hence make online checking of the photograph before submitting your online form.