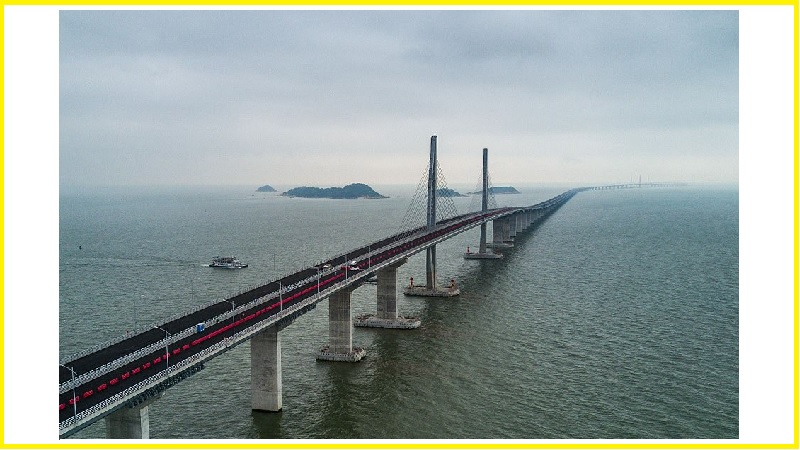 World longest sea bridge is almost finished. This world longest sea bridge will connect Hong Kong Zhuhai to Macao. The world longest sea bridge will reduce the travel from three hours to 30 minutes. China has started this mega project some 7 years ago. Most likely the bridge will open for the public traffic by the end of 2017. The main structure work of this world longest bridge is over by this Friday.  This longest bridge consists of 22.9 km bridge section and 6.7 km underground tunnel. The total length of the bridge is 55 km.
World Longest Sea Bridge
Construction budget of World longest sea bridge
According to the information given by the concern authority nearly 32 billion pound was spent to construct the bridge. It is the matter of pride for the nation to construct such monuments in the world. So here we are going to discuss about some interesting facts about the world longest sea bridge.
Some interesting facts about World longest sea bridge
The bridge has used 420000 tonnes of steel which is enough to construct 60 Eiffel towers.
The bridge's total length is 55 kilometers.
The bridge has cost some 112 billion Hong Kong dollars.
It took 96 hours to lay the first tube in the ocean.
7 workers died during the construction.
129 have been injured during the construction of the bridge.
This is very much encouraging work. Basically the developing nations must learn something from this construction. This constructions shows that if you first dream and work accordingly everything is possible. We wish the smooth function of this bridge after opening for the traffics. At the same time we would like to suggest you to go through many other interesting facts about china in our previous articles.
At last but not the least we hope that such kind of informative article will really help our reader and viewer to gain the knowledge about the current affairs.