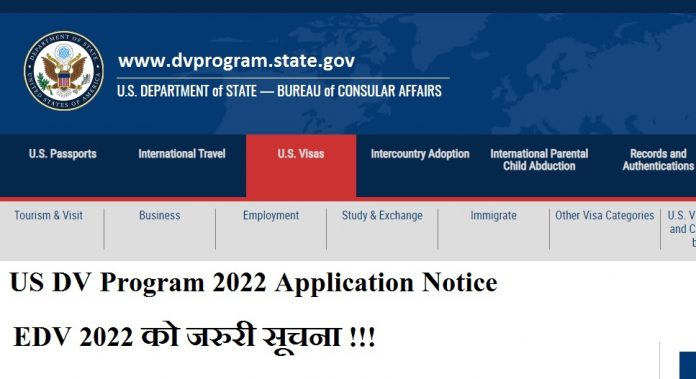 There is limited time for US DV Program 2022 application notice. This year dv lottery program is little different than the previous years.
US DV Program 2022 Application Notice Instruction
Every year state government gives the instructions for about the dv lottery. So here you can get the 2022 dv program instructions. Read these instructions well before going for the online dv lottery application.


This bundle of instructions basically includes the registration period and new rules for diversity visa lottery. Did you get the list of dv lottery 2022 new rules? If you have not got it yet check it now.
Confirm Qualification for DV Lottery
The principal applicant must have this qualification for the dv lottery visa. Otherwise you will not get visa though you have selected in the lottery. Similarly the visa application fee also will not be refund.
Hence read this eligible qualification for the dv lottery.
Here is the list of new rules for dv lottery 2022. The details of the new rules is available in our previous articles.
High School Education:
The principal applicant of the dv lottery must have at least high school education. In the context of Nepal it is equivalent to grade 12 passed. So if you have minimum class 12 passed certificate then you are eligible for the dv lottery as main applicant. But the spouse and children need not this qualification.
Work Experience:
If you do not have high school education then you need minimum two year work experience in the last five years. This work must be under the definition of US labor. The rating of the work must be 7.0 or higher.
If you want to learn more about it check the state government page.
Passport Requirement:
Beside some countries all the other must submit their passport number in the dv lottery online application. If you are not able to submit the passport number your application will not be accepted.
By the way if you are selected as passport exempted individual you will not get the visa during the interview. Hence it is mandatory to give the valid passport number of the main applicant during the application. But this is not compulsory for spouse and children.
The DV Lottery Online form is available at www.dvprogram.state.gov