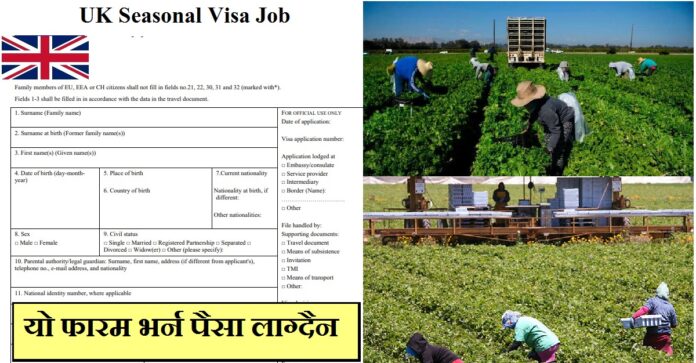 United Kingdom is going to provide UK Seasonal Visa Job. This working visa job is for seasonal workers in agriculture sectors.

Take a short eligibility test for UK Seasonal visa job. Only the eligible candidates can proceed ahead for the visa application.
Horticulture Job in UK
You might have heard about seasonal working in UK. In Nepal it is now being viral in every street to tea shop. People are found talking about seasonal visa job in United Kingdom.
You Cannot Apply for:
This job will be in horticulture. Here you have to work in vegetable firms and fruits garden. But this time jobs in poultry and pork butchery is stopped. Similarly there will not be work permit visa for heavy drivers.
Apply for UK Seasonal Working Visa from Nepal
If you are currently unemployed and thinking for abroad job then this can be the good opportunity. If you are eligible for the working visa then you can live and work in UK as seasonal working visa.
However you must pass the eligibility test before apply for this visa.
UK Seasonal Visa Job
This visa will let you to remain and work in UK for six months. We have the application process in detail in our previous article. Hence learn more about it from our early articles. How to apply for this working visa in UK let us learn it.
How to Apply UK Seasonal Working Visa
It is being very much interesting among Nepali youths. Thousands of Nepali youngsters are being interested in this visa. Therefore we are going to provide you in details about it in this article.
CV and Cover Letter
You must have CV and cover letter together with sponsor's letter for the visa application. This sponsor letter is a letter from your employer or agent in UK which manage job for you in United Kingdom.
After creating this document apply for the job in a company which you prefer. If you are successful then you will get the letter my email or mail.
Requirements for Seasonal Visa for Nepali
This is the second step for visa application. The requirement is simple and few.
18 years and above in age
Should have sponsor letter from employer
Required Documents
Following documents are mandatory for this working visa.
Valid passport
Sponsor certificate
Bank balance
You need to show minimum two lakh Nepali currency in your bank account for at least one month. But if your employers make assure to cover your expenses in UK then it can be exempted.
How much does it cost?
You have to cover the following expenses.
Visa application fee
Personal expenses as mentioned above
Air ticket
How long can I Stay UK
You can stay for six months under this visa. You can enter UK two weeks before your job starts.
What you can
You can work in your prescribed employer job. But if you want to change the employer you must take permission for British labor ministry.
You can take course related to you job.
What you cannot
You cannot take two or more jobs at the same time. Similarly you cannot take or accept permanent job in UK under this visa entry. At the same time you cannot bring family members in UK. And finally you cannot take any part time jobs beside mentioned in your job offer letter.
Conclusion
Though, this visa is for six months only you can learn many things within this period. Similarly you can understand country and culture in this period. You can also take academic courses related to jobs during this period.