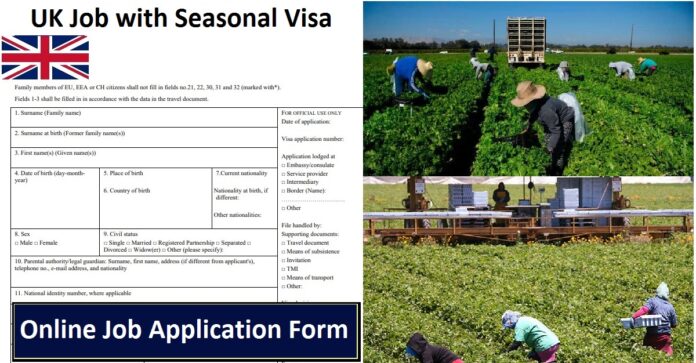 The British government provides UK Job with Seasonal Visa. Here we give online application process for UK seasonal working visa job.

Take a short eligibility test for seasonal working visa. Only eligible candidates can apply for the work permit visa in UK. Just give few minutes for this test.
Who Can Apply UK Seasonal Visa
The applicant must be 18 years for this job. Similarly you need sponsor's letter or job offer letter from United Kingdom employer.
UK Job with Seasonal Visa
There is work opportunity for migrant workers in UK. Basically United Kingdom is going to provide seasonal work permit visa for the agriculture sectors workers. It can be the workers for vegetable kitchen garden or fruits garden.
UK Seasonal Visa Jobs
This visa will let you to work in horticulture sectors. Right now migrant are not allow to work in pork butchery and heavy food carrying driving. Hence it is wise to know in details before apply for the visa.
How to Apply for the Job
You can make online application for the job. Once you make application with CV and cover letter the employer goes through it. If the UK based company satisfies with your document then you will get email for the job confirmation. Then your second step for UK working visa job begins.
Required Documents
Following documents are mandatory for the UK job under seasonal visa.
Sponsor letter or job offer letter.
Valid passport
Visa fee payment receipt
Bank balance certificate
You need to show nearly two hundred thousand Nepali rupee in your bank account. This amount must be in your account for at least 28 days.
What You Can
You can enter United Kingdom two weeks before your job starts. This visa will let you to remain in UK for six months. Similarly you can join for academic course related to your job. With the government permission you can change your employer in UK.
What you cannot
You cannot take permanent job in UK. Similarly you cannot change the employer without permission. You cannot accept fund and charity. You cannot bring your family members in United Kingdom.
Application Process
All the application process is online. When you receive job offer letter from your employer then you can visit the British embassy in your home country for the visa.
More detail about it you can read in our previous articles.
In conclusion we want to make you aware that does not go after the agents in the market. Learn details about such seasonal working visa before making visa application.