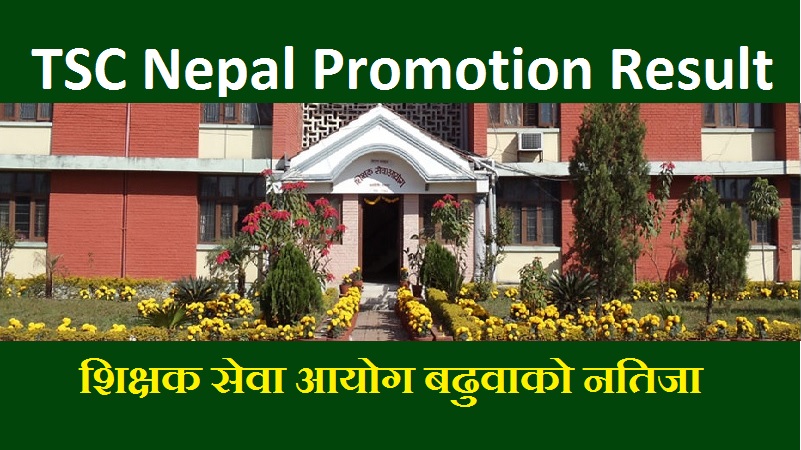 Well here is TSC Nepal Promotion Result published today. We have been giving the TSC Nepal Promotion Result regularly. So if you are visiting this site first time please see the other several articles related to teacher service commission Nepal.

Here you can find both types TSC Nepal Promotion Result. Like the promotion after internal written exam and promotion with the evaluation of appraisal form.
TSC Nepal Promotion Result of Internal Competition
As you know that the promotion process goes in two ways. One is the internal competition which includes both written exam and interview. The qualified candidates compete for fixed number of vacant seats. So in such competition the written exam and interview marks decides the selection of candidates for promotion. Here we provide timely information and result of TSC Nepal Promotion Result as soon as it is published by teacher service commission Nepal.
TSC Nepal Promotion Result of Appraisal Form Evaluation
In such promotion there will not be any written exam or interview. The teachers get promotion with the evaluation of their appraisal form. So in Nepali culture it is also called pani baduwa. However what is nick name given to the promotion does not matter. Here we give up to date result of all kinds of promotion result published by Teacher Service Commission Nepal.
TSC Nepal Promotion Notice
All kinds of promotion notices are available here. Well if you are the public school teacher you are in correct point for your information. Better if you like GbsNote Facebook fan page it will be fine. It is because we give all kind of TSC Nepal notices in this page. Twenty first century is the age of information technology so, be in touch with us via social media for fast and current Teacher Service Commission Notices.
Right now most of our visitors are asking the question about the secondary level teaching license exam. So for we are getting the information from the concerned authority most probably soon after the third phase local level election application form will be open. At the same time we want to assure you that the notice will come in this page as soon as the form will be open. Therefore it is not necessary to be panic that whether I will miss the application form.