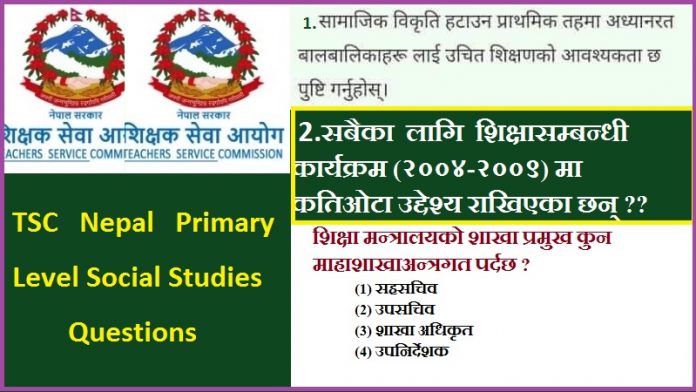 Here are TSC Nepal Primary Level Social Studies Questions. These TSC Nepal Primary Level Social Studies Questions are prepared by concerned subject expert.
TSC Nepal Primary Level Social Studies Questions
It is the collection of TSC Nepal Primary Level Social Studies Questions. Here we give the subjective questions for social studies. As you know that primary level teacher candidates have to face six subject subjective questions.
Social studies teaching is necessary in primary level to remove social evil in our society justify.
Why is social study teaching needed in primary level? Give your opinion.
How to teaching social studies subject help to bring harmony in our society? Give answer in points.
Are you really satisfied with the existing curriculum of social studies in primary level? If not suggest your idea.
How will you present in your class the Topic Child Labour in your class?
So it is our attempt to provide subjective questions for all these six subjects. In this course we have already published the mathematics, English, Science and Environment. Therefore if you are new in our website do not miss to check other articles related to teacher service commission Nepal.
Primary Level Nepali Subject Long Questions
Social Studies Subjective Questions for Primary Level
Free Online Class for Primary Level TSC Candidates
The interested candidates can send their problems to us via online media. So if you have any confusion while preparing the TSC Nepal exam contact us. Our subject expert team is ever ready to help you. In this course we encourage all the teacher service commission Nepal candidates to make the maximum utilization of this facility.
Similarly in our Question Bank we have thousands of objective questions. These questions are equally important for all level TSC Nepal candidates. We suggest you all to go through these objective questions as well.
This is always a burning issue. Every candidate wants to present the effective answer in the exam. But they are looking for some clue to make the answer more effective. As you know that this teacher service commission Nepal exam is very much competitive each candidate must give extra ordinary answer. Nearly one candidate gets chance from thousand candidates. Hence very good preparation and unique answering style is need in this exam.
We have be getting message for many people that they have weak memory power. So here are few tips to increase memory power. So if you follow all these steps certainly your memory power will be better.