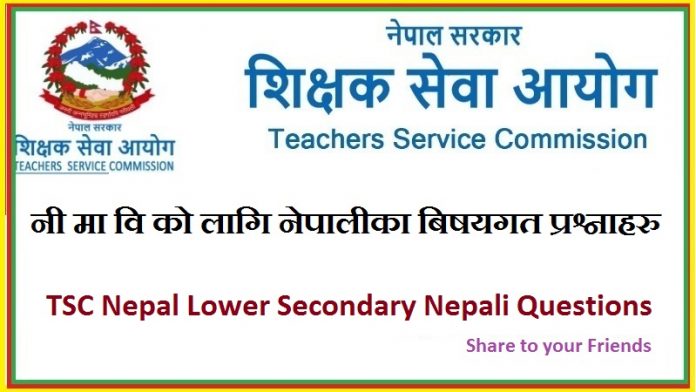 Here we have TSC Nepal Lower Secondary Nepali Questions. These are TSC Nepal Lower Secondary Nepali Questions for subjective portion.
TSC Nepal Lower Secondary Nepali Questions
These subjective questions are from TSC Nepal Lower Secondary Nepali Questions. Hence the lower secondary level teacher candidates will find it much useful. If you are the regular visitor then you know well that there are hundreds of TSC Nepal questions in our web portal. But if you are the new in our website please do not forget to check other articles about Shikshak sewa Aayog.
All Level More than 500 Objective Questions
We have hundreds of subjective as well as objective questions for teacher service commission Nepal examination. In other words this is free online class for TSC Nepal candidates. Here we give online help and support for teacher service commission Nepal all level candidates. In previous TSC Nepal examination also many thousands candidates we benefited from gbsnote.com online class. We have been getting words of appreciation from them till today.
There is big competition in this Shikshak Sewa Aayog Examination. So, almost all candidates have nearly same level of knowledge. The main thing is how to present the answer in the effective ways. Hence in this connection we have prepared separate article. So instead of repeating all the things over here I kindly request you to follow that article. If you check the category TSC in our website there you can find several articles related to Shikshak sewa Aayog Nepal.
Well in this topic we will tell you about the eating habit for the good memory power. Similarly we provide certain tips for better learning. At the same time here you can learn how to remember date and time easily. Beside this we have many more in our article. The topic of the article is how to increase the memory power.
Finally we would like to suggest all the TSC Nepal candidates to remain in touch via social media for the timely information about teacher service commission Nepal. We hope that you all like this article on the topic TSC Nepal Lower Secondary Nepali Questions.
Beside this if you have any question please drop it down in the comment box below. Our subject expert team will try to solve it as soon as possible.