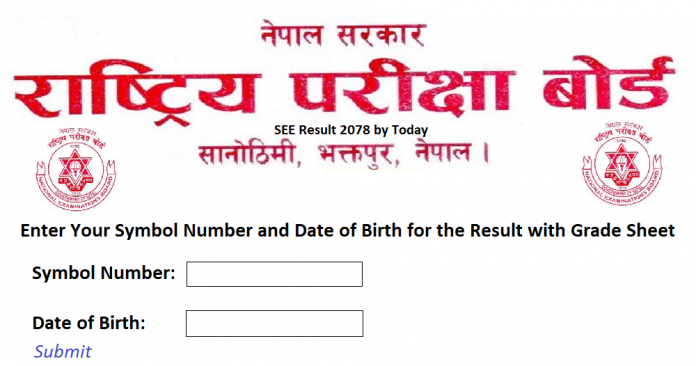 National examination board has published SEE Result 2078 by Today. You can get the online SEE result with grade sheet from here. Millions of parents and students are waiting for the SEE result.
Online SEE Result 2078 with Grade Sheet
The office of the controller of examination has just now published the SEE 2078 result. Hence just following these steps you can get the result with mark sheet.
Go to www.see.ntc.net.np
Here you will find one face page of the result.
Fill the details in this page.
Give the correct exam roll number and date of birth of the student.
Now submit the details for the result with grade sheet.
SEE Result Via SMS and IVR
Well, if you are away from the internet facility still you can get the secondary education exam result. So, for this you can use SMS or IVR service.
SEE Result Via SMS
Go to the new message box in your mobile phone.
Type SEE give one space and then type the Exam Symbol Number
Now send this message to 1600
Both the NTC and NCell users can follow the same method for SEE result.
IVR Service for SEE Result
If you do not have mobile phone, then is such case you can use the land line PSTN phone for the Result.
For SEE result dial 1600 and follow the instruction given there.
Dial 1601 for class 11 and class 12 result enquiry.
For SEE supplementary result dial 1600
Dial 1602 for TU results.
SEE Result 2078 by Today
As mentioned above the SEE result board meeting is going on now. As soon as the meeting will be over the national examination board Nepal will published the 2078 result in online mode. Due to high traffic the server may not work in the Nepal government's sites.
Hence are some private sectors websites for online SEE result.
www.neb.gov.np
www.see.gov.np
If you have any problem while getting the online result contact us. Similarly, you can contact us via our social media page. If you send your exam symbol number and date of birth, we will provide you the result with grade sheet.