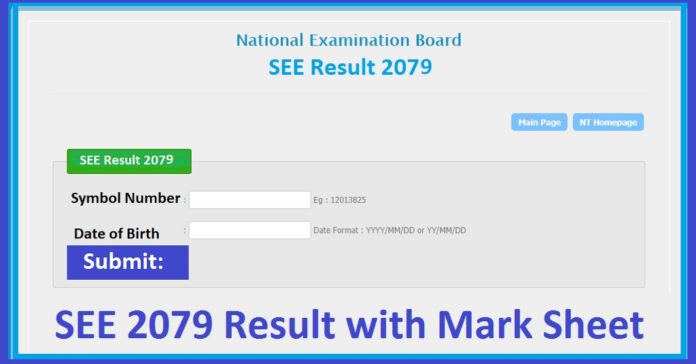 National examination board has published SEE result. Here you can get SEE 2079 Result with Mark Sheet.
SEE 2079 Result with Mark Sheet
There were about five hundred thousand students in SEE exam 2078. The exam was held in the month of Baishak. SEE exam of this year was started from April 22, 2022. You can get the online SEE result from the official page of national Examination board Nepal.
NEB has implemented new grading system from this year. There are several changes in the new letter grading system. Few important changes in this new letter grading system are as follow.
Minimum pass mark for theory is 35 percent
Similarly the pass mark for practical is 40 percent
Students must pass theory and practical separately
There are only 7 grades in new system
Students getting less than 35 percent will be NG i.e. none graded.
How to Get SEE grade Sheet?
There are several websites to provide SEE result. Among them we prefer Nepal Telecom official web page for the result. Just follow these steps to get online SEE result with grade sheet.
Go to www.see.ntc.net.np
Choose the option result with grade sheet.
Enter your exam symbol number and date of birth.
Submit the detail for the result with grade sheet
If you find are confusion while getting the online result with grade sheet contact us. Our expert's team will help in this case.
How to correct the name and DOB in SEE grade Sheet?
It is common that there are errors in your SEE grade sheet. If you have such problems in you grade sheet solve it as soon as possible. We have separate article in this topic. However you can get brief idea here.
Visit education development directorate of your province.
There you have to submit the application for the correction.
Give the copy of your grade sheet and other official documents.
Take the recommendation letter from your school for the correction.
What does NG means?
If a student is not able to secure minimum 35 percent in the theory of more than 3 subjects then such student will not get grade sheet. Such case is called NG according to the new letter grading system.
SEE Result Date
This is the first SEE batch after the pandemic. Due to virus pandemic there was no secondary education exam for last two years. Hence parents and students are excited to get the SEE result.
Beside this in the past as well the then SLC result was closely observed by the students and parents.
People do not give importance for class 12 board exam result compared to SEE result.
Traffic Jam in Internet
In the recent hours of SEE result publication it is hard to access the official page of SEE result. Hence it is our attempt to provide SEE result.
Finally we would like to express our best wishes for all the SEE 2079 students for their grand success in the upcoming result.