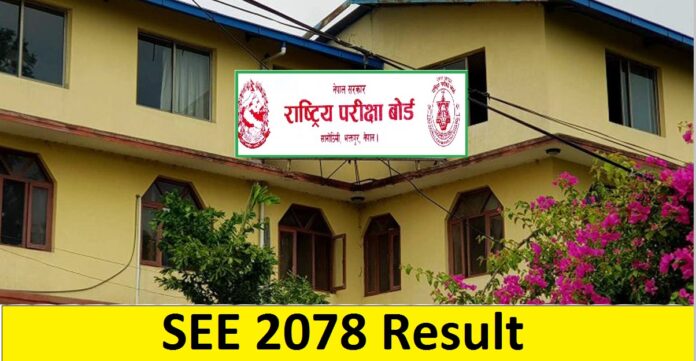 NEB is going to publish SEE 2078 Result by Tomorrow. Hence students can get their online result via this page. Follow these steps to get the online SEE exam Result 2078.
It takes nearly one hour to update the SEE Result in the web server. Hence you can check the online Secondary education exam result one hour after the result announcement. There are three ways to get the online SEE exam results.
SEE 2078 Result by Today
The office of the controller of examination is at the final stage for the SEE examination results 2078. If everything remains usual the result will come on or before July 16 2022. Details about the SEE result publication date and time you can read in gbsnote.com previous articles.
How to Check Online SEE Examination Result?
As mentioned above there are mainly three ways to get online result for SEE exams. They are as follow.
SEE exams results in web pages.
SMS method for SEE Exams online results.
IVR system for the secondary education Exam SEE results.
SEE Exam Result in Web
This is very common method to get the result of secondary education examination. It has been nearly one decade that NEB publishes the result via online mode. But in the past there was no system of online result. It is because at that time there was no internet facility like today.
SEE Result at see.ntc.net.np
Online SEE examination at see.gov.np
SEE results at soce.gov.np
Beside this there will be several private sectors websites for the result
The detail about it is yet to come. The office of the controller of examination sanothimi will publish this list just before the result. As soon as the NEB makes this list public we will make it available in this article.
How to Check SEE Result 2078 by SMS?
This is next easy method to get SEE exam results. So to get the result of SEE exam in your mobile phone follow these steps.
Go to the message box in your mobile phone
Compose new message
Type SEE give space and type the exam roll number with alphabet
Finally send this message at 1600.
Now you will receive the result in your mobile phone
But never do this at least one hour of the result publication. It is because it takes minimum one hour to upload the result in the server.
When to use SMS for the SEE result?
It is ideal if you do not have smart phone. Similarly you can use this method if you are not in the internet range. All kinds of mobile phone users can get the SEE exam result by following the above steps.
IVR Method for SEE exam Results
It is automated voice response method to get SEE results. It is computer based technology. The users can dial 1600 from PSTN phone or CDMA phone set. Now you will get the automated response. Just follow the instructions given over there for the SEE results.
Finally we would like to express our best wishes to all the SEE 2078 candidates for the upcoming result.
During the result if you have any problem you can contact us. Similarly you can leave your exam symbol number and date of birth so that we can send you the result with grade sheet.