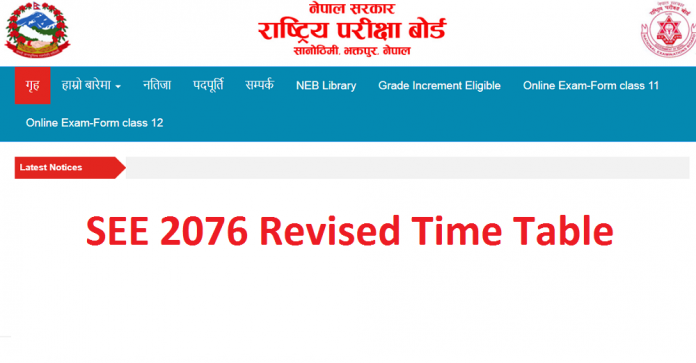 Here is SEE 2076 Revised Time Table notice. The national examination board Nepal is working to publish the new SEE 2076 Revised Time Table.
SEE New Time Table News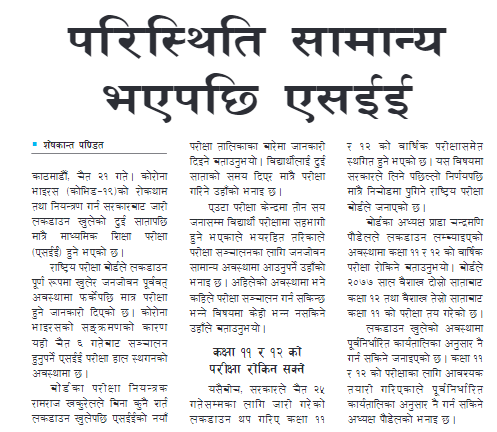 This news is published in March 4 Gorkhapatra National Daily.
Here are some important SEE questions. So the students can practice these questions for during their exam preparation.
Challenge and Opportunity both for SEE Students
The SEE exam has suspended for indefinite period. Hence the SEE students are now in confusion. Students were fully prepared physically as well mentally for the board exam. As the government suspends the exam in eleventh hour students are now in puzzle.
Challenge for the SEE Students
If the students use the rest of the time for the revision it can be the opportunity however it is very challenging to motivate them for the study as they are in teen age.
On the other hand they are now in their home. Government has strictly asked to evacuate hostels and schools. So the distance students find themselves more panic at this moment.
Students Worried about the Vacation
Basically the SEE students get nearly three months' vacation after secondary education exam in the past. But this time as their exam has postponed they are much worried that they will have very short break after the exam.
Suggestions for Parents at this uncomfortable Situation
We kindly suggest here by to all the SEE students' parents to make this uncomfortable situation fruitful to their kids. Give daily schedule to your son or daughter.
Instead of suggesting just to read or study give them daily time table from morning to evening. It is better to ask your child to make your daily time table yourself.
Never discourage your child just telling them you can do nothing in your life. Just encourage them. Never compare your child with their friends. It does not give positive motive to the children.
SEE 2076 Revised Time Table
Due to pandemic of COVID 19 virus the government has suspended the secondary education exam 2076. Now as the situation is better the office of the controller of examination has published the revised schedule for the SEE exam 2076.
As soon as the office of the controller of examination publish the new time table for the SEE exam we will update it in this page.