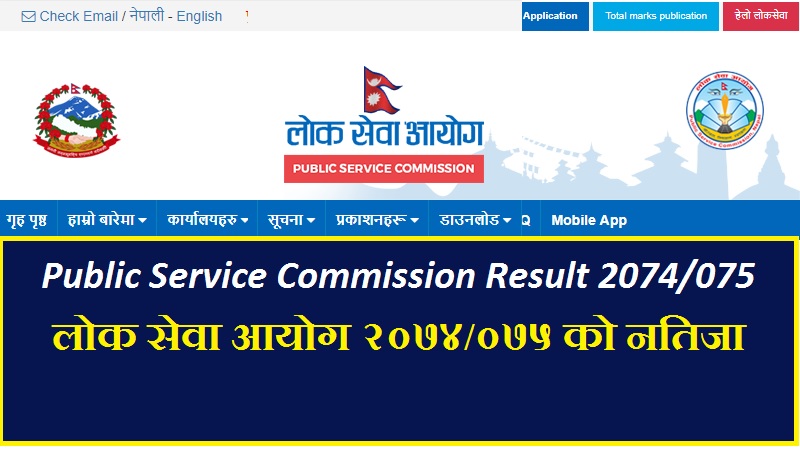 Here you find Public Service Commission Result 2074/075. We give you Public Service Commission Result 2074/075 as it is given by PSC Nepal. Public Service Commission Result 2074/075 consists of all level results.
Lok Sewa Aayog Natija 2074/075
Public service commission Nepal publishes the result on Wednesday in Gorkhapatra Daily. So if you are unable to go through Gorkhapatra daily no matter just like our Facebook fan page for all the notices and information of lok sewa Aayog Nepal.

Well we will attach the result of Kharidar in this page. As soon as the result is out by public service commission Nepal we will inform you all via this page. At the same time you will also get notification in your mobile phone if you just like GbsNote Facebook page.

Public Service Commission Result 2074/075 [Subba Result]
Subba is the non- graduated first class in the rank of public service commission Nepal. Therefore for this post you must have passed the plus two or the then intermediate level for the job application. Here you will publish the Subba result as given by lok sew Aayog Nepal.
Here we give all kinds of psc.gov.np vacancy announcement. Beside Nepal government jobs lok sewa Aayog conducts written exam and interview for other government based authorities. So such kind of notices you can find here. That means this gbsnote.com is the job information hub.

The next important phase for government jobs is interview. Many people are discarded after interview though they were eligible from written exam. Hence to help this group of people we have interview guide for PSC Nepal job interview. This interview guide will make you confident while facing the interview.
How to Make Good CV?
CV is the next important document during your job hunting. Hence we suggest you to write effective cv. Therefore we suggest you to go once through our article how to write effective CV for your job application.
Finally we would like to express very best of luck for your Result.