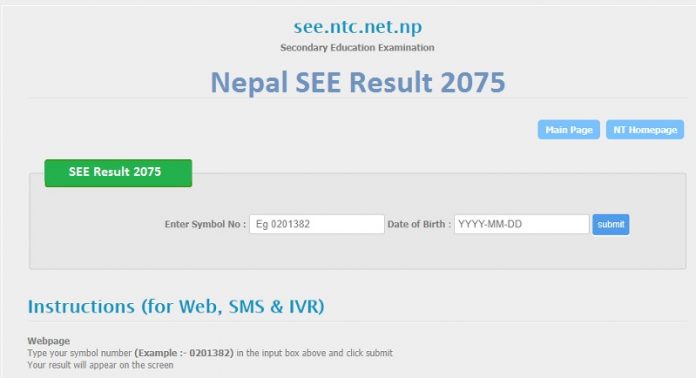 Nepal SEE Results 2075 is going to publish tomorrow June 27 2019. The meeting for Nepal SEE Results 2075 finalization is going on in ministry of education.
SEE Result 2075 by tomorrow June 27 2019
According to the Deputy Controller Chetnath Sharma at the office of the controller of examination the result will publish by Asar 10 2076 tomorrow.
If every things go well SEE 2075 Result will publish tomorrow. Otherwise the result will be on Thursday 27 June 2019.


Nepal SEE Results 2075 by 4 pm
According to the office of the controller of examination the SEE 2075 result will publish by tomorrow. As soon as the meeting will over students can find the online result.
We have many articles about secondary education exam result. Hence if you want to learn more about SEE exam result follow our previous articles.
It is now very common that national examination board Nepal publishes the SEE result only in digital form. There is no printing media to give SEE exam results.
Hence students as well as parents must be aware of this digital form results.
There are different ways to get online digital result. Here we give the brief report of all means of SEE digital results. Hence you can choose any one of the method to get your online SEE exam result.
SEE 2075 Result in Websites
National examination board Nepal publishes the list of websites to provide secondary education exam results. Here is the list of websites giving SEE result.
Hence you can log in any one of it for the online result.
Best Schools and Colleges for Grade 11 Study
Students and parents are always worried about the selection of schools for class 11 study. Here is the list of best plus two colleges of Nepal.
This list certainly gives some idea to choose the plus two colleges for the students and parents.
Best Faculty for Class 11
We have talked about it in our previous articles as well. There is no any faculty which is not best. It means all the subjects are best in their respective fields.
The most important thing is that whatever subject you study no matter. But you must do best in your study.
Finally we want to suggest the parents that never give pressure to your children during the selection of the faculty. Let them choose the subject of their interest.