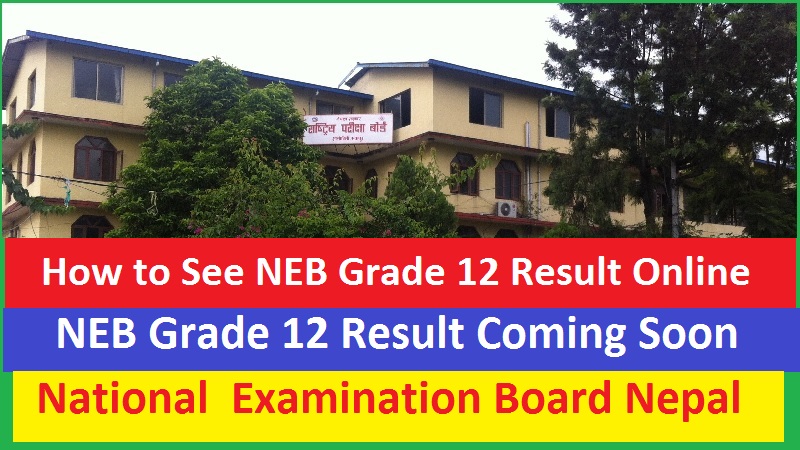 NEB Grade 12 Result Online is available here. National examination class 12 results details is given below.
Well national examination board is working to publish the NEB grade 12 result very sooon.
So here we provide you the several ways to see the NEB grade 12 results online. It had been several years that the NEB grade 12 results publishes only on online media.
Hence it is important to know the way of checking the NEB grade 12 results online.
Way to check NEB grade 12 result Online

#1. Nepal Telecom Website
You can find the NEB grade 12 result online in Nepal telecom website. The web page for grade 12 online results is neb.ntc.net.np.
So one of the easiest way to find the grade 12 result online is NTC website.
#2. National Examination Board Website
The second option for the online result of grade 12 is the national examination board website itself. The official site of national examination board Nepal is neb.gov.np.
So, grade 12 students can use this page to check their NEB grade 12 results online.
#3. Higher Secondary Education Board
The higher secondary education board is now called national examination board. So if you check the higher secondary education board online you will again reach the page of national examination board.
Hence it is same as NEB webpage and HSEB webpage. There may be still some people searching HSEB instead of NEB.
Therefore for that purpose only we are including this information in this article.
#4. NEB grade 12 result online by SMS
Nepal telecom provides this facility for the student to find grade 12 results online. Not only this, national examination board gives the data link to other private companies and individual in paid system.
The information and details will be attached in this article soon it will be announced by national examination board Nepal.
So remain in touch with us by different means like Facebook, twitter and others.
The other related information about grade 12 result will be updates timely in coming days.
Finally we would like to express best of luck to all the students who are waiting their grade 12 result. so if like the article please do not forget to share it to your friends and relatives.