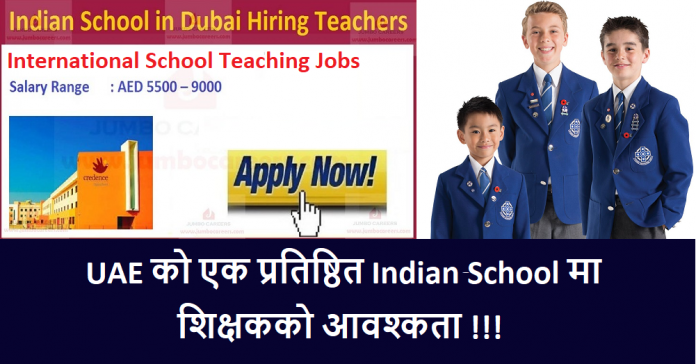 Indian School in United Arab Emirates is looking for the following teachers. Apply for the International School Teaching Jobs from here.
You can submit your job application together with CV from here. The short listed candidates will be informed for the interview. It does not cost to apply for the job.
International School Teaching Jobs
UAE Based Indian School has announced the vacancy for the following post.
Post Graduate Teacher
Trained graduate teacher
Middle school Teacher
Primary School Teacher
Kinder Garden Teacher
Junior School Teacher
Academic Dean
Education Counselor
How do I get a job at an international school?
Are you willing to join teaching job? Well, here are the steps for the job application. Abroad teaching jobs have attractive payment. Similarly, teachers have good facilities in UAE. Like car and good accommodation. At the same time, you will get round trip air ticket every year.
You have to complete the online job application from the school's website.
The short listed candidates on the basis of the qualification and experience will be called for the online interview.
Then after completing the interview you will get the visa for the respective country.
If you have any more questions about it, please contact us.
How much do international teachers make in Dubai?
International teachers in Dubai have very good salary. On the top of this, they get nice facility like car and apartment. Well furnished apartment the school manages for their teachers. It is a good opportunity for the teacher to live and work in Dubai.
What are the best international schools to work for?
You will find the Indian International schools best for the Asian candidates. So, here we are focusing for the teachers from Nepal and India for the above vacancies. It is well paid for all types of International schools in UAE.
How can a foreigner get a job in UAE?
There are several types of working visa in UAE. The most important thing is what is your area of interest. If you are interested for teaching you can join the teaching jobs. Similarly, if you have strong physical structure you can join for Dubai Police. Doctors and engineers are highest paid in UAE.
For all these jobs you can make online application. The rest of the selection process begins after the short listing of the candidates.