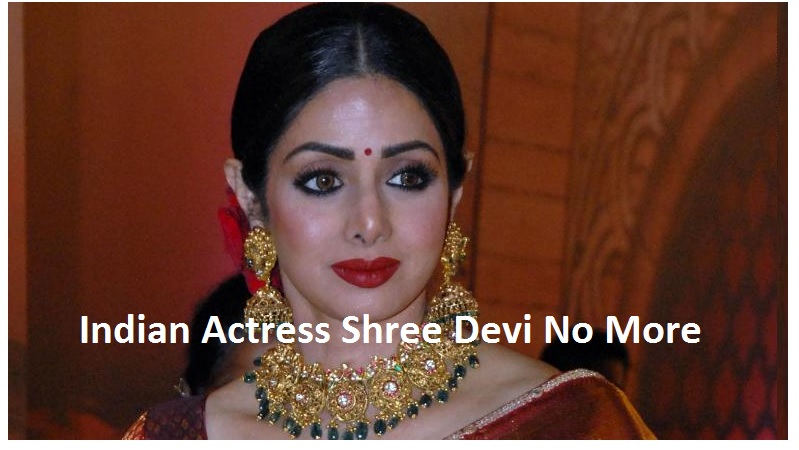 Famous Indian actress Sridevi is no more. Sridevi was very famous cinema actress in Indian film industry. According to the source Indian Actress Sridevi was died due to heart attack.
Indian Actress Sridevi No More
Sridevi was in Dubai in family weeding ceremony. Here we have prepare this article with the help of news published in CNN News.
Indian Actress Sridevi Short Biography
Born August 13, 1963, Sridevi made her film debut as a child actor at the age of four in "Thunaivan," a Tamil Hindu drama directed by M.A. Thirumugham.
Other films followed, including "Julie," which marked her first foray into Bollywood at the age of 12. Her first leading Bollywood role came in the 1979 Hindi film "Solva Sawan."
Four years later, Sridevi broke through to the list of Bollywood's most highly sought-after actresses with the action comedy "Himmatwala."
Sridevi's credits include some of the most watched films of the '80s and '90s, including "Mawaali" (1983), "Tohfa" (1984), "Nagina" (1986), "Mr. India" (1987), "Chandni" (1989), "Lamhe" (1991) and "Gumrah" (1993).
PM Narendra Modi Tweet
Sridevi was very much famous in her time. Here is the list of some super hit films of Sridevi. According to the source she has started acting at the age of four. Sridevi was a veteran actress in her time. Indian Prime Minister Narendra Modi also tweet the condolence message on the demise of actress Sridevi. Sridevi was 54 years old.
"Sridevi is one of the last great heroines of Hindi cinema who could hold her own against any hero, said Rachel Dwyer, Professor of Indian Cultures and Cinema at the SOAS University of London.
"A great beauty, a talented actress, a brilliant dancer, a delightful comedienne, she is a true legend."
People of India are expressing their heart felt condolence on the untimely demise of Sridevi.
Finally we GbsNote family would also like to express our heartfelt condolence for the untimely demise of famous Indian Cinema Star Sridevi.
So this news even prove that money can purchase medicine but not life.
This news is based on the CNN online News.
You May Like: