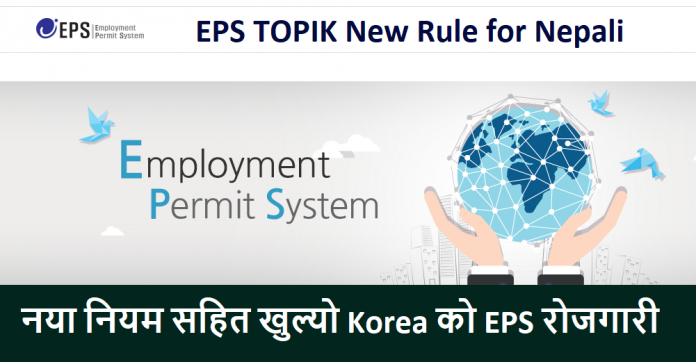 Korean government has introduced EPS TOPIK new rule for Nepali. Here is the detail about the new rules for Nepali migrant workers.


EPS TOPIK Employment for Nepali
Due to covid 19 the EPS Korean language and skill test passers were stuck at home. There was strict lockdown in the country. Similarly, all the international flights were suspended. So, due to such many reasons eligible Nepali migrant workers were not able to move Korea.
But finally Korean government agreed to take Nepali migrant workers with conditions.
The government of Korea put forward 3 conditions for the employment under EPS for Nepali migrant workers. Here are these conditions.
Direct flight from Nepal to Korea
It means the migrant going to Korea under employment permit system (EPS) cannot use the transit ticket. That means he or she must take direct flight from Kathmandu to Korea so that there will not be chance of covid infection during the flight.
Self-Finance Covid 19 Health Insurance
The individual going to Korea under the EPS program must bear the cost of health insurance for the covid 19 treatment. This will certainly increase the cost for the migrant workers.
Two Weeks Compulsory Hotel Quarantine
The migrant worker after reaching to Korea must stay in Hotel quarantine for two weeks. They must remain at minimum three star hotels in Korea. The cost for three-star hotel is minimum 66 US dollar. This is a big amount for Nepali people.
But during the bilateral talk with Nepal government officials and the leaders of the workers they said that the migrant workers are ready to pay this cost. They said that the hard earned this opportunity they do not want to miss at any cost.
The remittance from the EPS is major faction in country economy. Currently there are 31 thousand Nepali working in south Korea. They contribute large amount in the remittance of the country.
Finally, if you would like to know more about this work permit in Korea contact us. You can also leave your queries in the comment box below.
So, share this EPS TOPIK New Rule for Nepali to your friends as well.