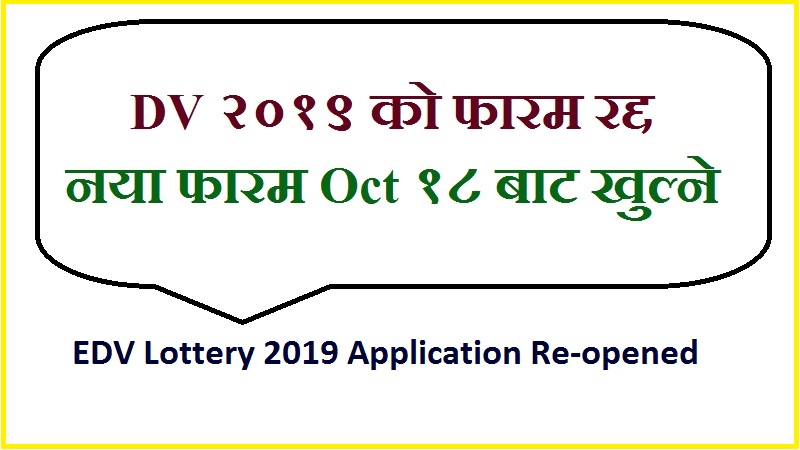 Did you fill EDV Lottery 2019 Application? So if you have filled EDV Lottery 2019 Application within October 10 then it is disqualified. The EDV Lottery 2019 Application submitted before October 10 is invalid.
EDV Lottery 2019 Application
So the new application for EDV Lottery 2019 Application is now open. Throw your all the previous detail and just forget it. Due to the technical problem in the database these forms are not in record with the state government. Similarly the application deadline is now changed from November 7 to November 22.
Now the applicants of dv lottery can apply the online form from today itself. The rest of the things is as it is in the previous application from.
The newly opened dv lottery application is similar to the previous one. So do not get confused regarding the resubmission of the dv lottery form. All the data and information submitted before October 10 is no more in record with the state government.
The application procedure for the edv lottery is given in the following points.
Go to www.dvlottery.state.gov for the application.
It is the official site for dv application
Fill all the personal details carefully.
Make valid size dv photo
Finally recheck the form before submitting it.
What are dv Winners in USA?
There are thousands of dv winners in USA. They are doing well there. Hence dv is the dream of all Nepalese. So there is big rush in dv application from Nepal. According to the state rule dv lottery winners after few years can get the citizenship of America.
The applicants for the dv lottery must have minimum high school degree. At the same time if you have minimum two years valid work experience it is also accepted as the academic qualification. Similarly the applicants must be the resident of the eligible nation for dv application. So in this regard Nepali is in the list of eligible country.
There might to be confusion whether to fill next application or not who has already filled it. It is not possible to fill the dv form twice in the same year however this year due to technical problem the applications submitted before October 10 are not valid.