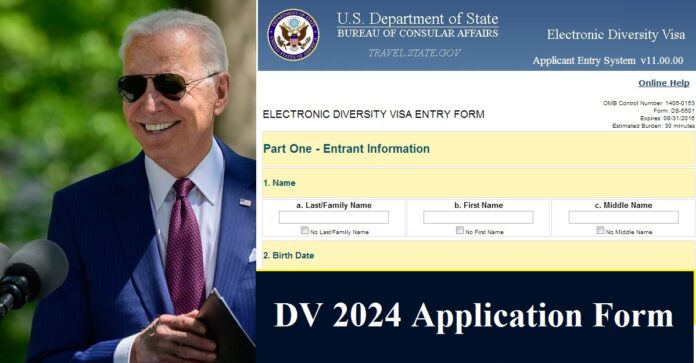 Are you looking for DV 2024 Application Form? Well, here we give the official link to get the EDV 2024 Application Form.
DV 2024 Application Form
The diversity visa lottery to get green card is available at dvprogram.state.gov. it is the official page of US government to manage dv lottery. Beside this there is no way to submit the EDV Lottery online application form.
It is easy to complete the diversity visa lottery online application form. Just you have to give maximum 30 minutes to complete the online dv lottery application form. State government has strictly suggested to fill the dv lottery by the applicants themselves.
If you are compelled to fill the dv lottery application by consultant or assistant never share the confirmation number to other.
This confirmation number is required during the result.
EDV 2024
This year American government is going provide 55 thousand green via dv lottery 2024. Perhaps it is the highest number in the history of dv lottery. Hence do not miss this opportunity.
Last Chance from Nepal
The number of migrants from Nepal to USA is sky rocketing hence it might be the last chance for the Nepali citizens to fill the dv lottery. So, we kindly suggest all the interested Nepali citizens to submit the dv lottery form as early as possible.
2024 DV Form
The dv lottery for 2024 is now open. Hence interested candidates can submit their dv lottery application. The last date for dv 2024 is November 8 2022. But state government suggest to submit the dv form as early as possible.
Frequently Asked Questions
Here are some common and frequently asked questions about dv lottery program.
Can I apply DV Lottery 2024 now?
Of course, you can. DV lottery is now open. Hence people from the eligible nations can submit their online dv lottery application. It is not necessary to remain in the country of birth. You can submit dv lottery application from any where in the world. As it is online form you can submit dv application all over the world.
How do I register my DV Lottery 2023?
DV 2023 is over now. People are getting the result of dv 2023. It was open in 2021. Hence there is no point to discuss on dv lottery 2023.
Is DV lottery Free
Yes, dv lottery online application form does not cost. It is completely free. You do not have to pay for the dv lottery online application form.
Read the instructions given in gbsnote.com before submitting your online dv lottery form.
A single error may result disapproval of your application form. Hence read the instruction carefully before submitting online dv lottery form.
Finally, if you have any question about the dv lottery contact us. Our experts are ever ready to provide help and support.