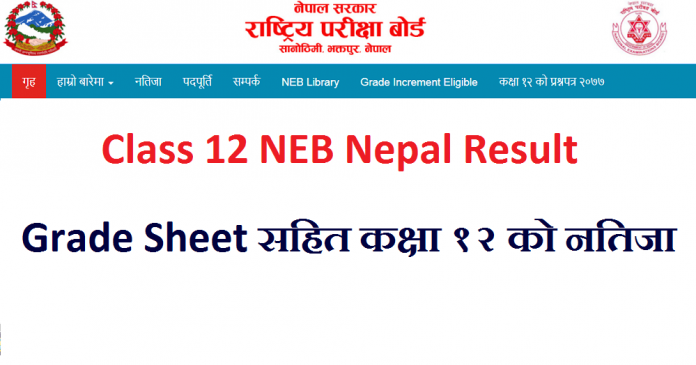 Thousands are waiting for the Class 12 NEB Nepal Result. This year due to Corona Virus the class 12 exam occurred 7 months late. Here are class 12 results.
Class 12 All Faculties Result
Here is all faculties grade 12 result 2077.


Class 12 NEB Nepal Result
National Examination Board Nepal is in final stage to publish class 12 results. According to the examination controller the board is planning to publish the result by the third week of poush. So as soon as NEB Nepal publishes the result we provide all the details in this page.
Well similar to the previous years this year also the class 12 result is in grading system. As mentioned above due to Covid 19 examination board is unable to take 100 full marks exam.
Hence this year students took the board exam for 40 full marks. The next 40 percent will be from the students class 11 result. Last remaining 20 percent is internal evaluation of the school.
100 % Internal Evaluation
The secondary education exam also known as SEE exam was hundred percent internal evaluation. Government has made some code of conduct while evaluating the students, but it is not reflected in the SEE result.
In the past very few students were in overall GPA 4. But this year there were thousands of students under this category.
2077 Class 12 Results
Well you can get the grade 12 result in different ways. You can check the result in the official website of National examination board Nepal. The result is available in Nepal Telecom website as well.
Here are the steps to check the result with grade sheet.
First of all log on to www.neb.ntc.net.np
Enter your exam roll number and date of birth.
Submit the details for the result with grade sheet.
Beside this there are several other private media houses for the online result. Hence to get the details about it please check our previous articles.
Finally we would like to wish very best of luck to all the class 12 students for their upcoming result.