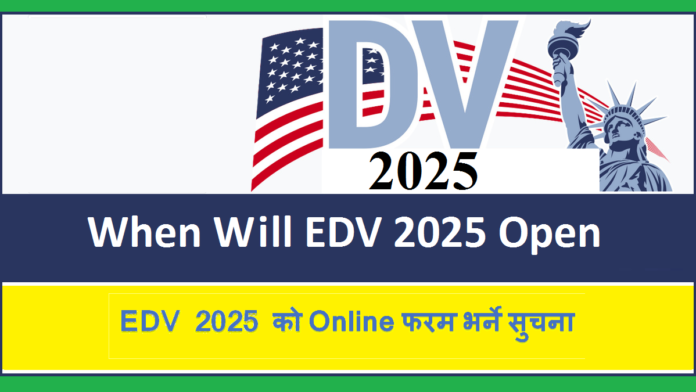 DV lottery filled in 2023 is called EDV 2025. When will EDV 2025 open? We are going to answer this question.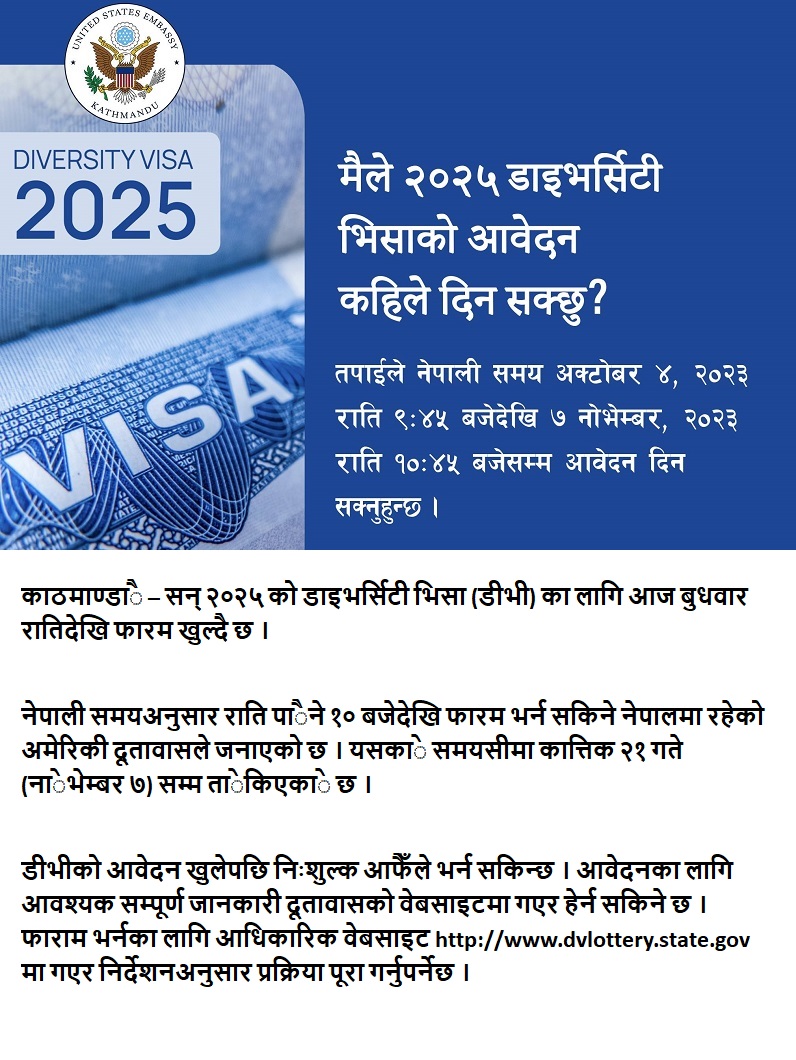 EDV 2025 is open till 8 November 2023. Hence the applicants can submit the online diversity visa lottery form last by this date. EDV online form is available at dvprogram.state.gov. it is the official web page of dv program.
When Will EDV 2025 Open
Millions are waiting for dv lottery online application date. You must be patient couple of months from today. As mentioned above EDV lottery of 2025 will close by second week of November 2023.
Last Date of EDV Lottery 2025
Diversity visa lottery online application remains for 5 weeks. Citizens from the eligible nations can submit the online application form. The most important part is the photo size. You must upload the correct size photograph for dv application form.
Who are eligible for DV Lottery?
All the citizens of the eligible nations are not eligible for dv lottery application. Here are some points that each individual must meet to apply dv lottery.
18 years or above by age
Must have minimum high school degree, in Nepal it is called grade 12 passed
If you do not have high school degree then you need minimum of two years work experience.
However, this work must be in the list of dv program requirements
Not involved in any political activities
More details about it you can read from the official web page of the American embassy in your respective countries.
Is Nepal Eligible for DV 2025?
Yes, Nepal is eligible for dv lottery 2025. This might be the last chance for the Nepali citizens. Hence do not miss it. As the number of migrant Nepali citizens to USA is increasing day by day the state government may remove Nepal from the list of DV lottery eligible nations.
Is DV Lottery 2024 Still Open
State government has already published the EDV 2024 result. Therefore, there is no point to fill the EDV lottery 2024. It is now turn to submit EDV 2025 online application form.
How to fill EDV lottery online form
The US embassy Kathmandu has suggested to all the dv lottery applicants to fill the online application form themselves. It is not necessary to go to the consultants to complete the online application form.
If you have computer and internet then it is easy to fill online dv lottery application.
Check www.dvprogram.state.gov. it gives the online dv lottery form. As soon as you visit this site there you will find entrant status page. This is easy and simple to fill application form.
At last, if you have any confusion about online Electronic Diversity Visa lottery then contact us. We reply your query within one working day.
EDV 2025 Result
The dv program and the government of united states of America publish the online EDV result in its official site. Hence the dv applicants must visit the same site where they have applied for dv lottery.
Name List of EDV 2025 Winners
The state government does not publish the name list of dv winners. But it is our attempt to prepare the list of dv winners from Nepal. It is only for DV winners from Nepal.
It is not the complete list of dv winners. Hence the dv applicants must check the final dv lottery result from the web page of dv lottery.
4000 Won EDV 2025 from Nepal
According to the early analysis of dv result about four thousand people are able bag dv lottery from Nepal. At this moment we would like to extend our best wishes to all the DV Winners from Nepal