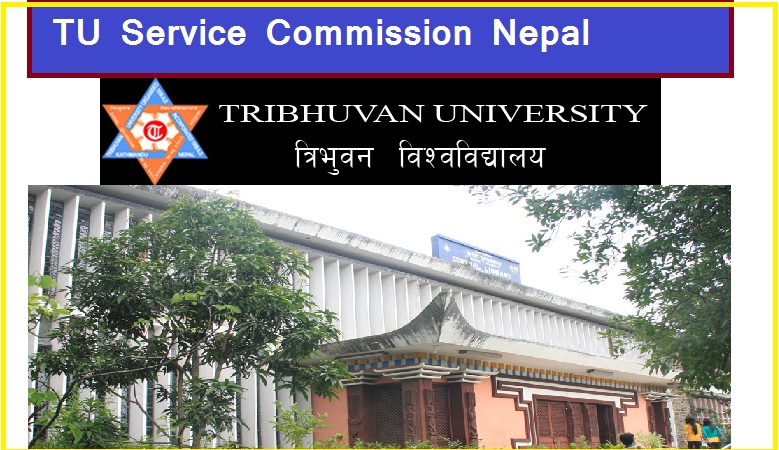 Tribhuvan University is shortly known as TU. Here we are going to discuss about TU service commission Nepal. So TU service commission Nepal is a body formed for the selection of academic and nonacademic staff for Tribhuvan University. Similarly TU service commission calls for the job applications. TU service commission Nepal has its own rules and regulation.
It is the first university of Nepal. Tribhuvan University is the largest university of Nepal. It is named after late king Tribhuvan. There are several university colleges and other private colleges affiliated to TU. Tribhuvan University was established on 1959.

Main Objective of Tribhuvan University
To prepare capable human resources required for the overall development of Nepal
Impart standard higher education
To protect and develop national culture and tradition
And to involve in extensive, empirical and timely creation of knowledge and research in the fields of arts, science, technology and vocation.
TU Senate
It is the supreme decision-making body on policies, budget, and rules and regulations for running the university. It consists of 52 members.
Present TU service commission Nepal Body
The university has its own Service Commission headed by chairman. And there are mainly two responsibilities of the commission:
To administer competitive written examinations and interviews for the applicants who wish to enter the university service and recommend the successful candidates for appointment to positions of teaching and administration.
To administer required examinations for teachers and administrative staff of the university for their promotion and recommend the successful candidates for the appointment.
Contact Details of the Board Member of TU service commission Nepal
Mr. Chaitanya Prasad Sharma [Chairman]
TU Service Commission
P.O.Box 8212, Kirtipur, Kathmandu, Nepal
Phone: (977-1) 4330846, 4331837 Fax: (977-1) 4331705
Website: www.tuservicecommission.edu.np
Prof. Kedar Nath Ghimire, Ph. D. [Member]
TU Service Commission,TU
Kirtipur, Kathmandu, Nepal                                                                                                                                                                                                                                 P.O.Box 8212 Phone: (977-1) 4330846, 4330841, 4331837
Fax: (977-1) 4331705
Email: www.tuservicecommission.edu.np
Mr. Parshu Ram Kiorala [Chief]
TU Service Commission,TU
Kirtipur, Kathmandu, Nepal P.O.Box 8212                                                                                                                                                                                                     Phone: (977-1) 4330846, 4330841, 4331837
Fax: (977-1) 4331705
Email: www.tuservicecommission.edu.np