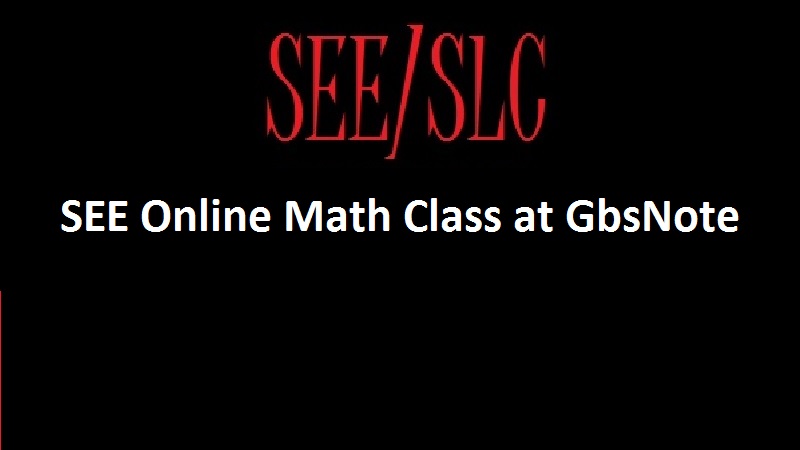 Are you looking for SEE Online Math Class?  SEE Online Math Class is available here. Mathematics teacher runs this SEE Online Math Class.
SEE Online Math Class
Group mathematics teacher guide the students for this SEE Online Math Class. So we expect encouraging participation from SEE students. The detail of the online class is mentioned below.
What Items We Present During Online Class
Collection of SEE / SLC past papers of mathematics
Marking scheme of the board level exams
Online practice questions with solutions
Online mocking test for the students
Score of the students obtained in the test
How to attend the Online Test???
You can take online test from this page. So if you want to check your level of SEE curriculum mathematics then just like our Facebook pages to obtain the online questions. If you do not get the online questions via this way then send your queries in our comment box below.
How Much Does it Cost for the Online Test
This online mocking test is totally free. So interested can join it. But you must first join our Facebook page to use this facility. We request all the SEE students to use this free resource.
SEE Past Paper Collection
Here are many years SEE and SLC question collection. Basically we provide both optional and compulsory mathematics questions. On the top of this if you have any creative questions please forward it to us so that we will include these questions in our practice questions bank.
<< SEE Past Paper Collection>> See in detail …………………………….
How to Increase Memory Power
The students are much more related in this area. so here give some tips to increase the memory power. It is said that better to study less and memorize more. Therefore we are giving the ways to increase your memory power.
<< Memory Power Increasing Tips>> Read More ……………..
Finally we hope to see you all in our "SEE Online Math Class"