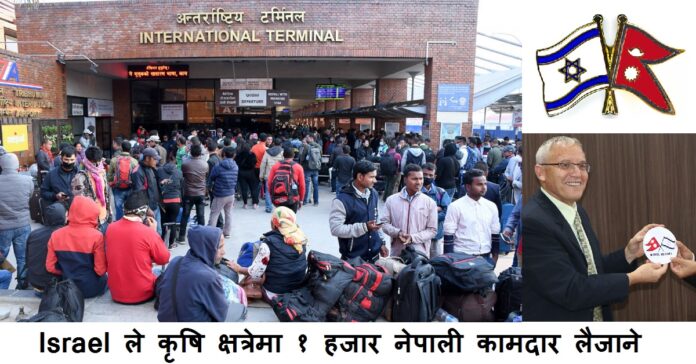 Nepal and Israel has singed the memorandum of understanding to establish Israel Job Opportunity for Nepali. So after signing this pact Nepali will get equal facility as Israeli citizens.
You can apply for this from the official website of Nepal government. The details is given below.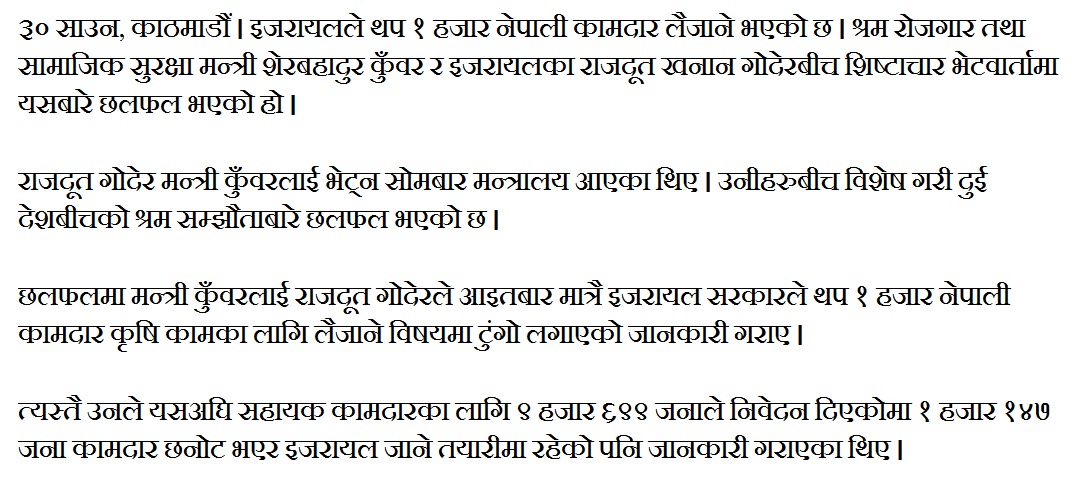 Salary: Minimum US $ 1600 (about one lakh 75 thousand Nepali rupee)
Cost to Apply: around NRS. one lakh
Israel Job Opportunity for Nepali
During the signing ceremony the agreement to send Nepali workers as care givers was signed. It means now the skilled Nepali citizens will to serve hospitals, daycare centers and old age home can go Israel.
With this Nepali migrant worker will get equal treatment as Israeli citizens in all aspects. So, there will not be any discrimination to the Nepali workers in salary or any other facility.
Job Opportunity in Different Sectors
With signing of this MoU Israeli labor market is now open for Nepali citizens. Nepali youths will get employment opportunities in care giving, hotels and restaurants and construction sector.
Finally, Nepal government has passed the directive to send Nepali youths to Israel in different sectors.
Document Required for Visa Application
The following documents are mandatory for the visa application. The candidates him/herself should come to embassy for the visa application.
Duly filled one copy visa application form with one passport size photograph in the right hand top corner and one extra photograph.
Citizenship certificated translated in English.
English translated marriage certificated if married or
Non married certificate translated in English.
Relationship verification among the family members translated in English language.
Police report issued by Nepal police.
Health report from the authorized health centers.
Flight schedule
Employment agreement paper.
Original copy of training certificates.
Receipts of fee paid in different sectors.
This list we have prepared with the help of webpage of Israel embassy in Nepal.
All the above document must be attested from the ministry of foreign affairs, Nepal government.
Job Opportunity in Israel
Nanny or au pairs job in Israel
Female candidates can apply for this post. Similarly, the candidates must have driving license. She must not be a smoker. To boys of age 2.5 and 6.5 years with a pet at home. So if you are willing for this job apply online from the following link.
So, if you want to get information about abroad jobs be in touch with us. Finally. best of all to you all for your abroad job.