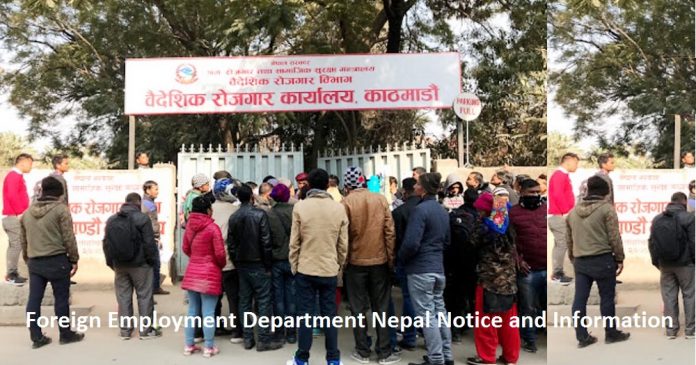 We provide Foreign Employment Department Nepal Notice and information in this page. Here we update all kinds of notices and information of DOFE Nepal.
Fill your online application for Israel care giver job.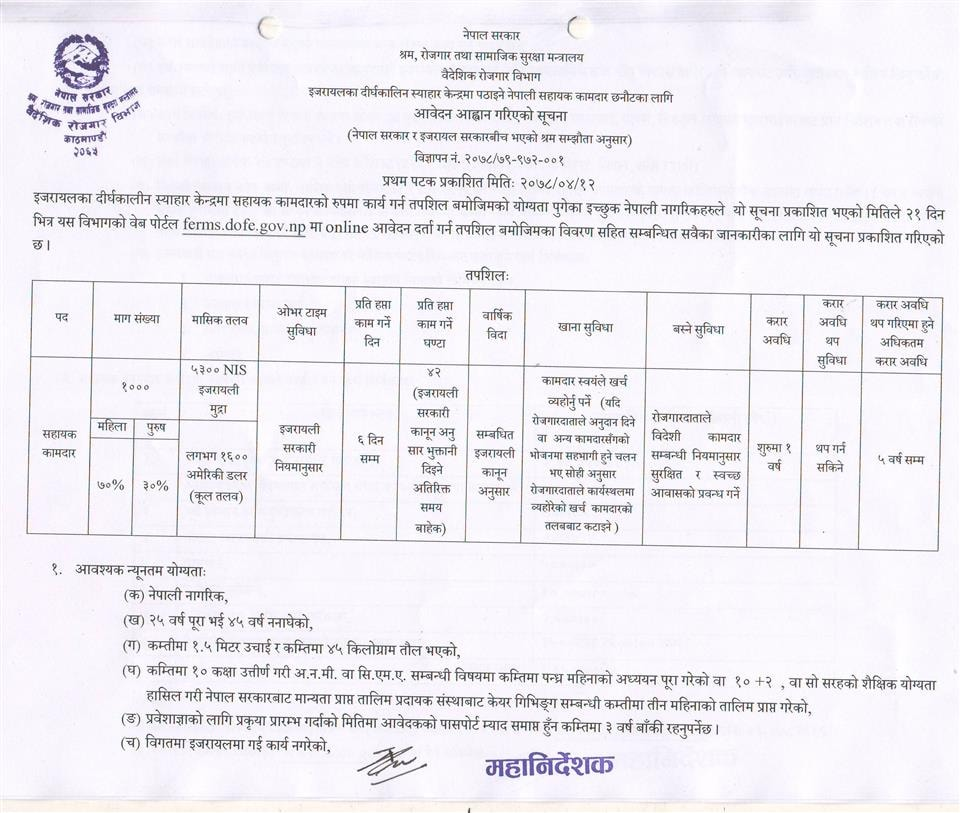 Israel is going to take 2500 Nepali Workers
In this process Nepal government coordinates to send the workers in Israel via government level.
UAE Kathmandu Regular Flight Schedule
Foreign Employment Department Nepal Notice
Foreign employment department manages all kinds of activities related to the foreign employment. Hence to get the timely update about the foreign employments remain in touch with official page of Nepal government.
It is not the government page. However we provide all the government urgent notices as it is and as early as possible.
Urgent Notice of DOFE Nepal
Here is the urgent notice of foreign employment department. It is all about the labour approval in different countries. All the migrant workers must take the working permission for the government before heading to the working country. Otherwise government will not be responsible for any kind and support and rescue in case of unfavorable situation.
Workers Approval Letter
It is compulsory to take the working approval letter for the government before going to the foreign employment. It is the official record for the country. Such approval letters record is a valuable statistical record for the country.
Different Embassy Notices
Migrant workers in different countries must see the embassy notices regularly. Hence to provide such notices easily we are working here. So in this page we give the urgent notices of different Nepali embassies. Therefore we can follow us in social media for the timely updates of embassies notice.
Nepali Embassy in Malaysia Notices
In this category we update all the notices related to the Malaysia. Similarly we provide the notices and information given by Nepali embassy in Malaysia.
Nepali Embassy in Qatar Doha
Qatar is the top Nepali migrant workers destination. More than two millions Nepali workers are working in Qatar. Most of them they do not have ideas to check the embassy website hence by the social media we provide such important notices. It is our attempt to make all the Nepali workers in abroad familiar with embassy notice.
People are also Searching: Qatar Police Job for Nepali
Embassy of Nepal in UAE
United Arab Emirates is the next highest Nepali migrant workers land. So we give all the notices published by Nepali embassy UAE in this page. We share this article in the social media. Hence we kindly request all the social media users to share such important notices to their friends and relatives.
Contact Details of Department in Nepal is:
Toll Free Number; 16600109999 / 01-4782621
Website: www.dofe.gov.np
Email: [email protected], [email protected], [email protected], [email protected], [email protected]
Similarly you get the notices of following embassies in this article.
Nepali Embassy Saudi Arabia
Embassy of Nepal in Kuwait
Nepali Embassy in India
Embassy of Nepal in United Kingdom
Nepali Embassy in America
Embassy of Nepal in Japan
Nepali Embassy France
Finally wish you all very safe journey.