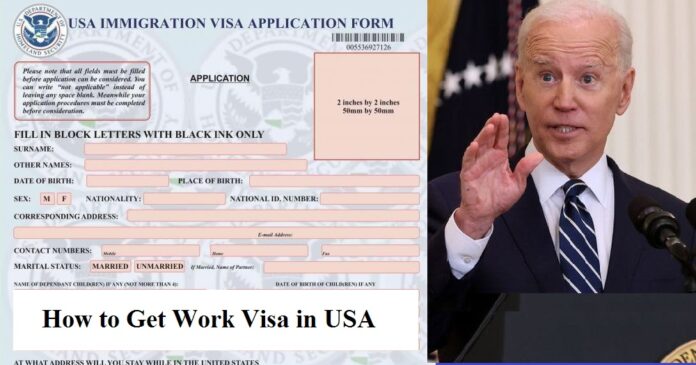 To work in United States as a foreign national you need to take work visa. Read the information we have provided below to know How to Get Work Visa in USA.
Depending upon your previous knowledge and experience there are many options for the individual to live and work in America. This includes temporary working visa, skilled worker visa, unskilled working visa and many more.
Learn more about temporary working visa in USA from this page.
How to Get Work Visa in USA
One the easiest way to live and work in USA is employment based green. This green will let you to live and work in America as permanent resident of USA. There are five kinds of employment based Green Card category namely EB1, EB2, EB3, EB4, and EB5. If you are interested in one of this read this article till the end.
Learn more about working in USA with green card below!
Students and Exchange Visa
Young adults looking career in United States of America can apply for the student visa. In so many cases such students can work for the given hours. Similarly exchange visitors can get temporary working options in USA.
Get more details about online application for students and exchange visitors from this article.
Seasonal Working Visa in USA
There is shortage of workers in the agriculture sector in America. Hence to fulfill this demand the state government provides seasonal working visa. This visa will let you to live and work in America for six months.
Get more about this seasonal working visa in USA from gbsnote.com.
Permanent Working Visa in USA
Well, there are many options for the individual looking for the permanent work visa in USA. The most important thing is that you have to choose the visa category according to your knowledge and skill. Work visa selection may result visa rejection.
How to Adjust Temporary Working Visa to Green Card
If you are eligible for this adjustment then you can apply for the green card. Here are steps to adjust temporary working visa into Green Card.
Steps to Adjust Visa Status
Check either you are eligible for the green card or not.
Submit your immigration petition file
Check visa availability
Complete your I-485 form
Attend your appointment for biometrics
In needed go for the immigration interview
Submit your other supportive documents
Every year millions are applying for USA working visa from the world. Hence you need to make your application documents strong. So for this you must collect all the necessary information about the work permit visa in USA.
If needed take the help from the legal consultancy.
Finally, we would like to express good luck to all the Nepali citizens looking for the working visa in USA.