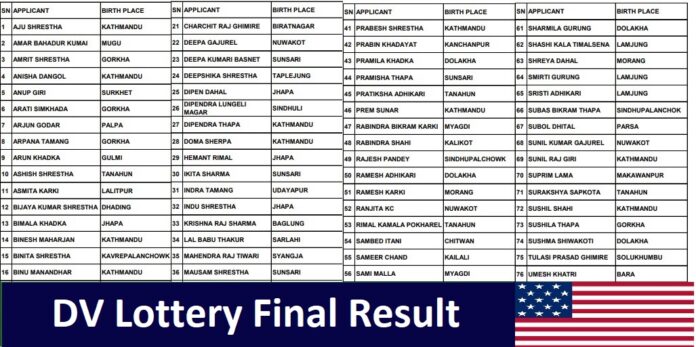 State government has published the DV Lottery Final Result. It is the final result of diversity visa 2023. Just check your result from the final list of EDV winners.
DV Lottery Final Result
Every year American government provides nearly fifty thousand diversity visas by mean of lottery. It is completely computer random selection. Hence there is no any human influence in this dv lottery.
Similarly, the US government does not send the email to the lottery winners. The only way to get the dv lottery result is the official web page of dv program. Online dv lottery result is available at dvprogram.state.gov.
It is the list of dv winners for the year 2023. As mentioned above state government does not publish the dv lottery winners name list. But it is our attempt to collect the name and address of dv lottery winners from Nepal.
EDV 2024 Result
Diversity visa 2024 application was over by November 2022. Online result of EDV 2024 will be published by May 6 2023. Since then you can check the online diversity visa lottery of the year 2024 till September 2023.
DV Winners from Nepal
For the fiscal year 2023 more than 4000 Nepali people won the dv lottery. Most of them in progress to migrate United States of America. This dv lottery has great dragging power.
Like the senior level officers of Nepal government are also ready to quite the job and migrate America. That is why there is no meaning to talk about the dv lottery craze among the lay men.
How to increase the probability to win the lottery?
We have been receiving such messages in our dv lottery page. But it is 100 percent wrong. There is no way to increase your probability to win the dv lottery. As it is computer based random selection you cannot do any further activity to get the lottery.
List of EDV Winners from Nepal
We have prepared the list of dv winners from Nepal in our previous article. Hence, we are not going to repeat the same in this page. On the top of this we update the list weekly. It is our personal attempt to collect the list of dv winners from Nepal.
Finally, we would like to express our best wishes to all the dv lottery winners from Nepal. Hope they will have enjoyable and safe living in United States of America.