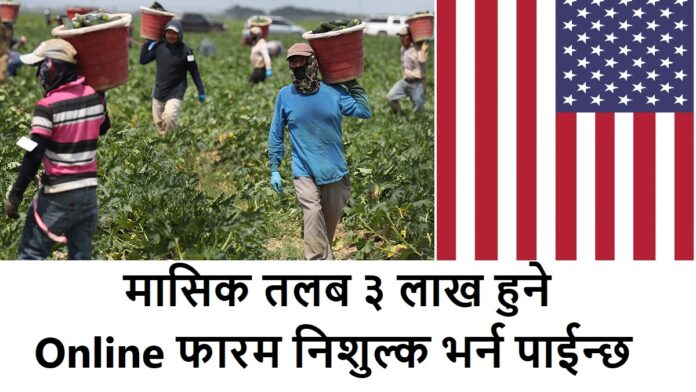 Here are currently two seasonal workers visa in USA. This is a complete guide for How to get USA seasonal Worker Visa.
Fill this free online application form. It is completely Free
What you find in this article?
What is seasonal work permit job in USA
Who can live and work in United States of America as migrant workers
How to make online job application
Visa interview process for migrant workers
What is Seasonal Worker Visa?
At this moment there are two type of worker visa in United States of America. The first one if H-2A visa. This is for temporary agriculture workers. Similarly, the next one is H-2B visa for non-agricultural workers. These two visas allow the employer to enroll foreigners in their organizations. Both visas will let the migrant workers to live and work in USA.
There are some eligibility criteria that you must meet to be qualified for the working visa job in USA. Well in this article we will provide the eligibility test and application process for seasonal working visa job in USA.
Who is eligible?
The eligibility for both H -2A and H-2B visa is more or less similar with slight variation. In both cases the employers must carry out the documentation part on behalf of workers.
When the state government approves the application filed by the employer to hire the foreign labor then only your visa application part starts in your home country.
How to get USA seasonal Worker Visa
If you are interested to live and work in America under the seasonal working visa then you must be familiar with different types of seasonal worker's visa. However, this seasonal work permit visa must be employer sponsored.
H-2A working visa eligibility
As an employer you must verify the following document to hire the foreign labors.
The employer must send the job offer letter to you
Employer must give the evidence that the desired manpower is not able to fulfill from the US labor market.
There will be loss if the vacant seat cannot be fulfilled at any cost
The enrollment of such temporary workers must not impact the over labor market of the state government
The employer must take the approval from the department of labor before you start to work.
Here we provide a complete guide on the application procedure. Just read this article till the end. Beside this we will provide other work permit jobs available for the migrant Nepali workers.
US DV Lottery
This dv lottery is a unique program of the state government. Every year about 55 thousand people around world get opportunity of green card. The dv lottery winners will get work permit.
Beside this we have many more information and notices about United States of America work permit jobs in our previous articles hence you can collect more information about it from our previous articles as well.
It is not the page of any agent or manpower company. We are simply sharing the information to our visitors.
Best of luck to you all for your time in USA.