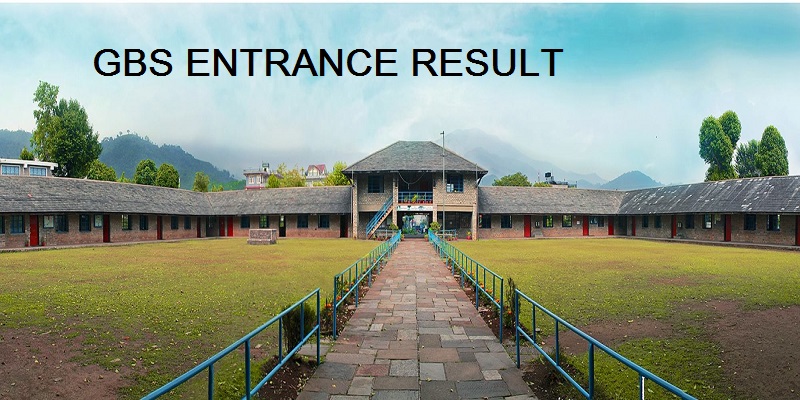 Here is GBS Entrance Result
Gandaki Higher Secondary Boarding School
(Regional School)
Pokhara-16, Lamachaur Ph: 440398, 440958
ENTRANCE EXAMINATION RESULT
Roll No.                  Name
Roll No.                    Name
Class 5
Waiting List
5092
Saman Gurung
7076
Diwan Tamang
5003
Krit Thapa
7058
Bhison Krishna Shrestha
5060
Kanishka Poudel
7025
Samit Paudel
Waiting List
7146
Gautam Gurung
5107
Sharon Gurung
Class 8
5029
Tison Bishwakarma
5082
Kritik Acharya
8030
Nischal Atreya
Class 6
8013
Aman Raj Poudel
6087
Akash Kumar Singh
8012
Ritesh Thapa
6116
Aayush Adhikari
8046
Aayusha Adhikari
6090
Shuvam Subedi
8071
Lucky Tilija Pun
6115
Ayushma Karki
8006
Saughagya Prasad Shrestha
6008
Sulav Poudel
Waiting List
Waiting List
8045
Kunjal Adhikari
6095
Spandan Giri
8094
Adrin Paudel
6049
Binayek Banstola
8052
Prashant Tiwari
6081
Bidhan Gin
Class 9
Class 7
7024
Safal Bhandari
9017
Kushal Paudel
7057
Swayam Poudel
9023
Ashwin Ghamal
7032
Bigyan Acharya
9014
Milan Chapagain
7002
Suyasha Sigdel
9061
Anima Thapa
7017
Sangam Poudel
Waiting List
7007
Manashi Timilsina
9037
Ayush Bharti Thakali
7003
Sabin Bahadur Thapa
9042
Prezina Paudel
7116
Aananda Bastola
9050
Keshav Acharya
Please Note:
Parents are requested to contact the school office on or before Friday, Chaika 26, 2072 and confirm their admission during school hour.
False or incorrect information given in the application form may result in cancellation of the seat.
Character certficate and mark-sheet (if not submitted with the application form) must be submitted at the time of registration on 9 Baisakh 2073.
Failling to confirm the seat by 3:00 p.m. on Friday, 26 Chaitra 2072, the vacant seats will be fulfilled from the waiting list.
Gandaki boarding school has its glorious history of 50 years of excellence in the domain of education. The regular intake is in class 4 and 11. While in other classes from 5 to 9 the school fulfills the vacant seat in each alternative year. This year also there were nearly 700 students competing for nearly 25 seats. It was a tough competition. The result of this entrance examination is attached here. We would like to Congratulate to all the successful candidates of this entrance exam. Wish you all best of luck in GBS life.
In this regard we would like to thank all my friends and relatives for kind cooperation. There was a big pressure of students this year. However the school administration was able to cope all this. So where ever you are or where ever you read please do your work sincerely. this is what we like to suggest all the students who are not able to bag the seat this time. Hence do your job honestly. Prove yourself that you are the best. Institution in not the end it is only the means. Many students from other institution have been reached in the top most level of their life.
GBS Entrance Result More Details.
Though most of the students were fit for Gandaki boarding school. But school is not able to manage it. There are limited seats in each class. So that school is not able to  admit all students. Hence it seems that there is need of well facilitated one more school in Pokhara area. Had it been one more alternative of GBS there will not be much pressure for Gandaki Boarding School. There are few organized institution in Pokhara area. So the investor in various other are suggested to invest in school and colleges in Pokhara. If it will be so in the days to come Gandaki Boarding School will not be much pressurized.